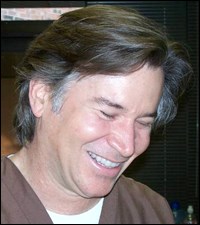 Austin, TX (PRWEB) February 07, 2014
Dr. David A. Baker of Westlake Family Dental Care offers dental care to Austin, TX area residents focused on their health in this New Year. With a variety of ways to achieve and maintain healthy gums, Dr. Baker teaches patients how to spot bleeding gums, an early gum disease cause, and provides treatments that not only eliminate such infection but also reduce the risk of other serious health conditions.
Both dental and medical research has proven that untreated gum disease can increase a person's risk for a variety of conditions including premature birth, low birth weight, Type 2 diabetes, gestational diabetes, stroke and heart disease. Gum disease is essentially a bacterial infection in the gum tissue. Just like any infection in other parts of the body, the bacteria that cause gum disease can travel throughout the system, affecting one's overall health. Some diseases, like diabetes, can even exacerbate gum disease so treating both is clearly important.
When making a list of healthy resolutions for 2014, a commitment to dental care in Austin, TX could be one of the easiest ways for patients to reach their goals. From regular preventative dental cleanings to laser gum surgery, Dr. Baker provides complete care and treatment to address any gum disease cause with the least invasive solution possible.
Any gum disease cause can be helped by regular periodontal maintenance. Maintaining healthy gums can also allow people to receive additional treatments that they may need such as the placement of dental implants, which should not be placed in diseased gum tissue. Patients who are focused on increasing their health as part of the start of this New Year are encouraged to visit Dr. Baker's website at http://www.davidabaker.net or call Westlake Family Dental Care in Austin, TX to schedule a consultation for proper periodontal maintenance.
About The Doctor
Westlake Family Dental Care is a general practice offering personalized dental care for patients in Austin, TX since 1997. Dr. Baker received his dental degree from the University Of Texas Health Science Center San Antonio Dental School and scored in the top two percent of the nation in Endodontics and Periodontics. He is part of one percent of dental professionals providing the LANAP FDA cleared laser procedure for gum disease and periodontal treatment. Dr. Baker stays abreast of the dental techniques and technology by attending at least 30 hours of continuing education each year. In addition to LANAP, Dr. Baker provides services such as fixed lower dentures, mini-implants, and TMJ. To learn more about Westlake Dental Care and their dental services, visit their website at http://www.davidabaker.net and call (512) 782-8422.