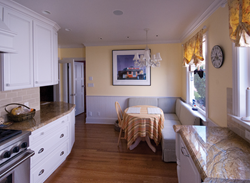 We're celebrating our 30th anniversary. That's exciting for us and a huge vote of confidence in the construction work we do.
Brisbane, CA (PRWEB) December 18, 2014
Christopher Wells Construction, a San Francisco remodeling contractor, recently celebrated its 30th anniversary, and is honoring this milestone by offering past and future customers a way to improve the value of their homes in 2015 with its Home Investment Package.
"It's time to give back to our loyal customers and encourage future homeowners to choose us for their next home remodel," said Chris Wells, the company's owner. He said the anniversary promotion dovetails nicely with Remodeling Magazine's 2014 Costs vs. Value Report. "There are a variety of residential projects for San Francisco homeowners that will generate a positive return on investment in 2015," he explained, "and we're providing each family with up $1,000 off selected remodeling services to help get them started."
Wells went on to mention several home renovations that recoup their costs, according to the Cost vs. Value Report. Projects include:

Attic Bedroom Remodel – COST RECOUPED 135.2%. Convert your attic into a comfortable bedroom with small shower. Add greater comfort with new windows, insulation and carpeting.
Kitchen Remodel – COST RECOUPED 111.7%. Update your outmoded kitchen. Build your dream kitchen today and get the look, feel and function you desire.
Basement Remodel – COST RECOUPED 117.8%. Get started on your spacious new bedroom and bathroom. A basement remodel will give you the extra space you need. Ideal for a family room, guest room, home office and more
These home repair values coincide with an auspicious time for Christopher Wells Construction, Wells said. "We're celebrating our 30th anniversary, and that's exciting for us and a huge vote of confidence in the construction work we do."
He added that Christopher Wells Construction has been a successful kitchen and bath remodeler for 30 years, due to the continued patronage of past customers, who keep coming back year after year for kitchen and bath remodels, room additions, whole-house renovations and more.
"And many have provided strong referrals," he added. "So it's definitely time to honor all of these clients. Therefore, the Home Investment Package, which gives homeowners information about financial incentives to remodel, is an excellent way to show our appreciation after 30 years in business."
"I'm often asked how I got into the residential remodeling business, and in some respects maybe it's always been a part of me," Wells went on. "I began learning carpentry as a teenager and took to it naturally." His passion for carpentry evidently came full circle: Wells started his career as a certified home inspector. The training as a home inspector, he believes, has helped him in his career as a residential remodeling contractor.
"Before I started my residential remodeling company I've evaluated more than 3,000 residences as a building inspector. This experience, along with remodeling homes for 30-plus years, has enabled me to accurately assess what type of repair a home needs, or provide the best possible advice on a kitchen, bath or whole-house remodel or restoration."
"The beauty of the Home Investment Package is that it keeps clients intrigued from the start," Wells said, referring to the anniversary special. "It helps homeowners look at a project from both a functional and financial point of view. They receive a discount, while knowing that the remodel will ultimately add value to their home."
Since 1984, Christopher Wells Construction has specialized in just about every type of residential remodel job: kitchen renovations, bathroom remodels, new construction, general carpentry, room additions, offices and custom-built homes and earthquake retrofitting. "So whatever type of renovation a customer desires, we can accommodate them," Wells added.
###
For further information:
Phone: 415-656-1220
chris@christopherwellsconstruction.com
Visit us at christopherwellsconstruction.com