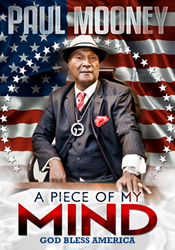 Paul Mooney is America's Lie Detector.
(PRWEB) March 19, 2014
Urban Home Entertainment & DavenStar 1 Entertainment knocks it out the park with the release of the Showtime Comedy Special, "Paul Mooney: Piece of Mind," available March 18, 2014 in Wal-Mart, Redbox, and Netflix.
"Paul Mooney is America's lie detector...,"says UHE's CEO Barrett Dungy. After a year of turmoil and being banned and canned, Paul Mooney rips America a new one. Crowned as the God Father of comedy, Mooney gives non-stop laughter in "Piece of Mind", one of the most talked about comedy events of the year. It's a no-holds barred style of standup comedy. Paul Mooney is on full display in this concert special that finds the vitriolic funny man sparing no politician or pop culture icon from his scathing wit, including Sarah Palin, Mel Gibson and even golf pro Tiger Woods. He's defiant, socially relevant, and always hilarious. It's a legendary Mooney performance taped live at the Cobb Energy Centre in Atlanta, GA.
Mooney is also known for writing Redd Foxx's "Sanford & Son" and "Good Times". He was the head writer for the first year of Fox's "In Living Color", creating the character Homey D. Clown, played by Damon Wayans. Much of Mooney's material is based on the subject of racism in the United States, which disturbs some audience members.
ABOUT DAVEN STAR 1 ENTERTAINMENT
A Piece of Mind is produced and directed by DavenStart 1 Entertainment, with almost 20 years producing and directing over 200 projects and counting. DavenStar has worked on Tyler Perry Productions, the Original Queens and Kings of Comedy, Shaquille O'Neal's All Star Comedy Jam, 20th Annual Trumpet Awards, and Paul Mooney: The Godfather of Comedy to name a few. "Paul Mooney's comedy borders on genius. He can be funny while at the same time thought provoking while poking at people all at the same time," says director Chet Brewster.
ABOUT UHE
Urban Home Entertainment is a leader in home entertainment. They are an African American boutique film company that specializes in stand-up comedy, urban, Latin and faith-based films. The company is headed by father son team Barrett and Trae Dungy. UHE is independently own and operated in Atlanta, GA since 2001 and their content is carried in over 2400 mass retailers, e-tailers and digital outlets across the globe. "After releasing Ron White: A Little Unprofessional, Paul Mooney is a comedic icon and it's a honor to release his DVD & CD into stores. We love working with comedic legends as well as up and coming comedians such as Gary Owens and Rodney Perry...," says CEO Barrett Dungy.