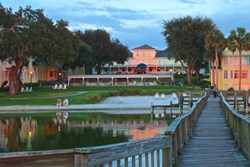 Make love an adventure, let travel transform your Valentine's Day.
(PRWEB) February 10, 2014
"Will you come travel with me? Shall we stick by each other as long as we live?" -Walt Whitman
Make love an adventure, let travel transform your Valentine's Day. Chocolates, flowers, and jewelry always make a good impression, but sharing a new experience together is where great stories and lifelong memories come from. Here are five amazing places to have a romantic weekend with that special someone.
Lakeside Inn of Mount Dora, Florida is the kind of special place that makes one question whether or not to tell everyone or keep it a secret, and preserve the magic. "There are no strangers in Mt. Dora. As the sun sets each evening over Lake Dora, the community comes alive with performed music around every corner. Fabulous restaurants and wine bars are in full swing as visitors and locals mingle, laugh, swap stories and enjoy the moment." Many restaurants, antique stores, and sport and leisure opportunities make Florida's "Festival City" fun, but the authentic sense of community and honest enthusiasm for life make it special. Lakeside Inn, Florida's oldest continuously running hotel has a Valentine's weekend package for $505 that includes 3 days, 2 Nights, breakfast each morning, and a special dinner on the 14th with candles and roses.
"Virginia is for Lovers" and The Jefferson Hotel in Richmond is a beautiful place to relax or adventure, following love's desire. "The Historic Richmond Region has something for everyone, whether you are passionate about history, the arts, gardens, architecture, theme parks, whitewater rafting, golf, shopping, dining, festivals, plantations, museums, NASCAR or sports. Richmond is Easy to Love!" The Romance Package at The Jefferson Hotel starts with sparkling wine and strawberries upon arrival, then a box of chocolate truffles at turndown, and in the morning enjoy a room service full American breakfast, and gratuities and valet parking are included for $335.
The Wentworth Mansion is a cut above luxury, the epitome of a small-hotel experience, and its location in lovely Charleston, North Carolina has all the history and magic a pair could hope for. It would be impossible to say enough about this one of kind hotel that was awarded the 2013 TripAdvisor Travelers' Choice Awards for #2 Best Luxury Hotel in the U.S. and #2 Best Small Hotel in the U.S. From $525 a night the Sweetheart Romance Package offers "an overnight stay at the Mansion, a three-course romantic dinner at our Circa 1886 Restaurant and candlelight turndown with a dozen roses."
The Cliff House at Pikes Peak has it all: prestige, history, location, and luxury. But, they say that it is the stories that define them. "Since 2001, we've consecutively received the prestigious AAA Four Diamond Award for both the hotel and our dining room. Our dining room has also received the DiRoNa Award, and Wine Spectator's Best of Award of Excellence, every year." Located just outside Colorado Springs, but guaranteed to be the experience of another world of luxury, and the perfect setting for any love story.
For a uniquely private romantic retreat The Audubon Cottages in New Orleans' French Quarter offers 7 distinct cottages to choose from. Enjoy the heated saltwater pool, complimentary breakfast, and a French Quarter Butler "to anticipate and cater to guests needs". Have a once in a life time experience, enjoying the fun and flavor of New Orleans together. February rates start at $275 a night.
Driving can be a great bonding experience for partners, but if flying is a must than using airport parking is often necessary when you travel with the person who might normally provide a ride to the airport. Global Airport Parking offers up to 75% off airport parking so travelers have more to spend on what really matters.