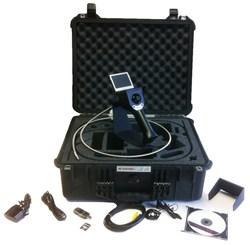 Traverse City, MI (PRWEB) February 11, 2014
The Association of the United States Army is putting on their Winter Symposium- Institute of Land Warfare Conference later this month. The Von Braun Center will host this year's gathering of a wide variety of Army and civilian personnel in Huntsville, Alabama, February 19-21. The overall scope of the symposium is to show new products and services that assist our troops in land-based warfare, help streamline logistics and supply chain management, and to learn about trends and the future of Army science and technology.
Leading video borescope maker, RF System Lab (GSA Contract GS-07F-103AA) looks forward to their first year of exhibition with the Association of the United States Army. Retired US Navy Commander Joel Riling, now VP of Government Programs at RF System Lab, is the connection between the groundbreaking VJ-Advance video borescope and our nation's armed forces. The VJ-Advance video borescope has become a preferred remote visual inspection (RVI) device for many military aircraft, including the C-130 Hercules cargo plane. Featuring four-way joystick-controlled articulation, medical grade image quality, and a weight of just 23oz, the VJ-Advance family of video borescopes is the most portable, fully functioning video borescope on the market.
Along with military aviation applications, RF System Lab has begun to break into the bomb disposal and counter-IED sector. Due to the VJ-Advance being extremely portable and operable with just one hand, it is the perfect device for bomb disposal technicians and military EOD personnel to get a glimpse of what they may be up against in a counter-IED situation.
RF System Lab is so confident in the VJ-Advance video borescope that a no-cost, no-obligation demo program is offered to qualified users. Contact RF System Lab's VP of Government Programs, Joel Riling at 231-943-1171 or online to talk about your specific application requirements. Or if you will be at the AUSA symposium, stop by booth #541 and take the VJ-Advance for a test drive.