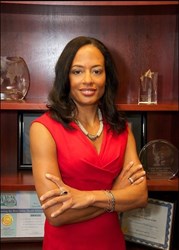 It's with great enthusiasm that I join in the work with a dedicated staff, organizational partners, funders and all those who have a strategic focus to eliminate inequalities in health and advocate for women's health as a social justice issue
Washington, DC (PRWEB) February 11, 2014
The board of directors of the Black Women's Health Imperative (Imperative), a national organization dedicated to advancing the health and wellness of the 20 million Black women and girls throughout the nation, is pleased to welcome Linda Goler Blount, MPH, as the organization's new President and CEO.
Blount is an accomplished strategic executive who brings innovative thinking from her experience in the public, for-profit and non-profit sectors. Over the course of Blount's career, she has helped organizations build their brand, revenue and organizational results.
She has spearheaded initiatives—impacting health and policy—that have expanded the mission-reach for regional, national and international organizations through her executive positions with United Way of Greater Atlanta, WFG Equity, American Cancer Society and the U.S. Centers for Disease Control and Prevention.
"The Imperative has an extraordinary legacy as the leading voice for Black women's health," said Blount. "It's with great enthusiasm that I join in the work with a dedicated staff, organizational partners, funders and all those who have a strategic focus to eliminate inequalities in health and advocate for women's health as a social justice issue."
For the past 30 years, the Imperative has been changing the lives of Black women and girls through advocacy and public policy, health education, research and leadership development. As the new President and CEO, Blount will continue to advance the Imperative's vision for health equity and social justice of Black women across the lifespan. She will be instrumental in forging new partnerships with like-minded organizations and individuals, and fostering deeper relationships among the health, health policy, advocacy, and reproductive justice communities.
"Black women are critical to the social and economic fabric of this country; therefore we must approach their wellness as a social justice issue. Black women must be part of the discussions taking place in boardrooms, research labs and the halls of Congress. We must have the right to control our own bodies and make decisions that are best for our health. Most important, we must live in a society that believes in and supports our right to optimal wellness."
Blount is a nationally sought-after speaker and has appeared at seminars and conferences across the globe. She serves on the Emory University Center for Ethics Advisory Board, and Morehouse School of Medicine, Public Health Program Advisory Committee among other board service work. She holds a Master of Public Health in Epidemiology from the University of Michigan.