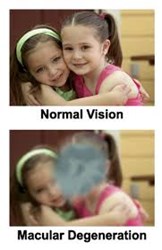 Mechanicsburg, PA (PRWEB) February 10, 2014
Age-Related Macular Degeneration (AMD) is the leading cause of severe vision loss in people over the age of 55 and it roughly affects 15 million Americans. According to the National Eye Institute, AMD occurs when the small central portion of the retina, known as the macula, deteriorates. This disease, primarily associated with aging, gradually destroys sharp central vision needed for seeing objects clearly, and is used for common daily tasks, such as reading and driving, identifying faces, watching television, safely navigating stairs and performing other dialing tasks. Although it rarely results in complete blindness, it robs the individual of all but the outermost, peripheral vision, leaving only dim images or black holes at the center of vision.
Below is a list of known risk factors for AMD;
1.Smoking and Second-hand smoke
2.Obesity
3.Race – Caucasians are much more likely to lose vision from AMD than African Americans
4.Gender – Of the more than 2 million Americans age 50 and older that have AMD, more than 1.3 million of those cases are women
5.Family History – Those who have immediate family members with AMD are at higher risk
6.Age – Although AMD can occur during middle age, studies show people over the age of 55 are at greater risk.
What are some things a person can do to decrease the risk of visual loss from macular degeneration?
1.Take vitamins (as directed by your primary care doctor or eye doctor) such as Macula Complete.
2.Avoid tobacco products.
3.Maintain a healthy diet rich in antioxidants.
4.Wear polarized sunglasses for UV protection from the sun.
5.Control blood pressure and cholesterol.
6.Visit an eye care professional for a dilated eye exam on a regular basis
There are two types of AMD - "wet" or neovascular and "dry" or atrophic. There is no cure for AMD, but new treatments are available for the wet form of the disease. There is no treatment for the dry form, but training and special devices can promote independence and a return to favorite activities.
More On Dry AMD - Most patients with AMD have this type. Dry form is characterized by the presence of yellow deposits, called drusen, in the macula. Generally, drusen does not cause changes in vision, but as they grow in size, and increase in number, they may lead to a dimming or distortion of vision, most noticeable when reading. In more advanced stages, there is a thinning of the light-sensitive layer of cells, leading to tissue death. This may lead to blind spots in the center of a patient's vision or loss of central vision all together.
More On Wet AMD – Although roughly 10% of people with AMD develop Wet Form, they make up the majority of people who experience serious vision loss from this disease. The Wet Form is characterized by the growth of abnormal blood vessels underneath the macula. These blood vessels leak blood and fluid into the retina, causing distortion of vision that makes straight lines look wavy, as well as, blind spots and loss of central vision.
The Pennsylvania Association for the Blind recommends that anyone over the age of 40 gets a comprehensive eye exam each year. Only through exploration and detection by an eye care professional can treatment begin that may be able to slow the progression and help save your vision. For more information about AMD contact the PAB at 717-766-2020 or visit http://www.pablind.org.
Contact: Katie Schock - PA Assn. f/t Blind Phone: 717-766-2020 Email: Katie.schock@pablind.org
Beaver Co. Assn. f/t Blind, Berks Co. Assn. f/t Blind, Blair/Clearfield Assn. f/t Blind, Blind & Vision Rehabilitation Services of Pittsburgh, Bucks Co. Assn. f/t Blind, Butler Co. Assn. f/t Blind, Cambria Co. Assn. f/t Blind & Handicapped, Center f/t Blind & Visually Impaired, Central Susquehanna Sight Services, Center for Vision Loss, Fayette Co. Assn. f/t Blind, ForSight Vision, Greater Wilkes-Barre Assn. f/t Blind, Community Services for Sight., Indiana Co. Blind Assn., Keystone Blind Assn., Lackawanna Branch –PAB, Montgomery Co. Assn. f/t Blind, North Central Sight Services, Nu Visions Center, South Central Blind Assn., VisionCORPS, Vision Resources of Central PA, Venango Co. Assn. f/t Blind, The Sight Center of Northwest PA, Washington-Greene Assn. f/t Blind, Westmoreland Co. Blind Assn.