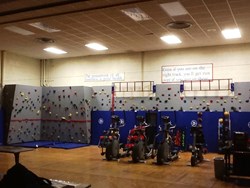 Climbing the wall is a fun and challenging way to address all five components of physical fitness without having to lift a weight.
Saegertown, PA (PRWEB) February 18, 2014
Laura Bullock, Physical Educator at the Cambridge Springs, PA school, understood the value of adding a traverse climbing wall to her school's Physical Education program. "I have seen them in other schools and have always thought that they would be a great addition to any physical education program. But, we were never able to fit one into our budget," says Bullock. "Receiving the Carol M. White PEP Grant, as a school district, made the climbing wall a possibility."
With typical PE budgets averaging around $750 annually, the PEP grant can be an important factor in increasing physical activity programs in schools. PEP Grants are federally funded competitive grants that award money to schools and organizations to improve physical education programs. Bullock and her team were awarded a three-year PEP Grant in 2011. The funds have been used for the climbing wall, as well as for programming and other fitness equipment designed to improve students' personal fitness and to increase awareness of the benefits of exercise and a healthy diet.
Cambridge Springs chose a Traverse Wall® from Everlast Climbing™, whereby participants climb across the wall instead of up it. The Cambridge Springs climbing wall is 10 feet high and 60 feet long and features color-coded hand holds that indicate the difficulty level and allow climbers to choose their challenge. The climbing wall wraps around a corner in the gym and has an overhang—two additional elements that add interest and challenge to the climbing experience. Traverse Walls allow for a continuous flow of students and don't require ropes or harnesses like higher top rope climbing walls. Bullock added, "I liked that more students can get on the wall at one time. The students will be more excited to come to physical education class because of the variety of options available to them."
The climbing wall will be used during physical education classes, activity programs and after-school programs. When asked what excited her most about the new climbing wall, Bullock replied, "Climbing the wall is a fun and challenging way to address all five components of physical fitness without having to lift a weight." Bullock added that the walls "provide students the opportunity to participate in a non-traditional type of physical activity that they can pursue for a lifetime."
About Everlast Climbing
Everlast Climbing is committed to improving youth fitness with dynamic and innovative products that engage children and inspire physical activity. The company is headquartered in Mendota Heights, MN, and is part of EverActive Brands, a division of PlayCore of Chattanooga, TN. More information is available about Everlast Climbing at http://www.everlastclimbing.com. More information is available about PlayCore at http://www.playcore.com.