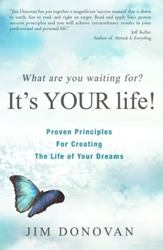 Book sales are a bonus, but Donovan has a mission that has nothing to do with sales or revenue.
Shippensburg, PA (PRWEB) March 07, 2014
On February 5, 2014, Jim Donovan made the remark that he would "be famous in about ten minutes."
So, why isn't he?
Donovan has sold thousands of books worldwide, yet sales in the United States account for only a small portion of those sales.
What is he doing wrong? Perhaps nothing. On the surface, it seems as though Donovan is doing everything right.
"I know people like my books," jokes Donovan. "They're in 22 countries. Someone must want to read them!"
Indeed, someone does.
The majority of Donovan's sales come from Japan. The Japanese people have embraced Donovan and his books, and are itching for more. He has more books in print in Japan than in the United States.
"Toyota's CEO, Cho Fujio, gave me a wonderful review for my second book, "This is Your Life, Not a Dress Rehearsal," says Donovan.
This is certainly nothing to sneeze at. Most writers would be grateful for a favorable write-up in the local book club newsletter, let alone an endorsement from the CEO of a major international corporation.
But what is Donovan really about? Book sales are a bonus, but Donovan has a mission that has nothing to do with sales or revenue.
After having reached rock bottom, Donovan went on a mission to rebuild his life and learn how to achieve success. He became a self-help junkie, devouring every book and audio he could find. He applied those ideas and saw significant changes in his life.
In 1996, Donovan was inspired to share his message and wrote and self-published his first book, "Handbook to a Happier Life." He later sold reprint rights to that book to a large publisher and has since gone on to write six additional books, which have been published in 22 countries.
He is a motivational speaker whose message is: "Yes, you can."
He speaks openly about the challenges and struggles that he has personally faced and knows, first hand, the power of his message.
Today, Donovan spends his time writing and spreading his message of hope and possibility to audiences everywhere. People have used his easy-to-apply ideas across the globe to achieve more successful and happier lives.
Donovan's honesty enables him to spread his message to even the most challenging of audiences. He has spoken to both shelter residents and prison inmates. His ideas help people who have given up on themselves to see the possibilities life holds for them. His core philosophy, "Within you is the power to change your life," challenges each individual to take responsibility for their lives and create a compelling vision for their future. He offers articles, eBooks and more at his Website, http://www.JimDonovan.com.
"This is Your Life, Not a Dress Rehearsal," republished in the United States as, "What Are You Waiting For? It's Your Life," as well as his other books, are available wherever books are sold.
Sound Wisdom Publishing is a subsidiary of Nori Media Group, located in Shippensburg, PA.
"We break the mold of the traditional publishing industry by creating long-term relationships with our customers, authors, and team members. We don't follow. We lead with new levels of creativity, focus, and determination. Thinking outside the box isn't just a phrase we use, but an everyday thought process that flows through our entire company. Continuous customer communication allows us to listen and respond to the needs of our clients, customers, and community. We are your publishing partner for the present and the future."
FOR PRESS INQUIRIES, INTERVIEWS AND REVIEW COPIES:
Kristen Adams
(717) 532-3040, Ext. 135
kadams(at)norimediagroup(dot)com