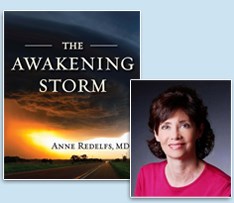 Are we listening to our lives? When we're not, problems escalate to grab our attention.
Texarkana, TX (PRWEB) February 11, 2014
Most of us have family members, neighbors, bosses, or co-workers that cause us a lot of stress. Perhaps our politicians or individuals cloaked within corporate bodies are stressing us. In The Awakening Storm, we learn that these "problem people" were created by trauma. They are maintained by traumatized people who've been unable or unwilling to meet the developmental needs of their wounded fellowman. "Psychological development, the on-going growth of our hearts and minds, is a basic need of ALL people, not just children," asserts author Anne Redelfs. MD. "When our needs aren't met, we have a right to be upset. The psychologically 'young' will upset others to share what they are feeling." Are we "listening" to these feelings?
In this book, Dr. Redelfs takes us on her evacuation from her New Orleans home to escape Hurricane Katrina. She shows parallels to the inner experience of every individual. When we are "young," we evacuate from uncomfortable aspects of our humanity to escape traumatic experience. When our traumas have been consistently overwhelming, we may largely evacuate from what makes us human. As this traumatic defense becomes habit, "Rocks and Minerals" come into existence. These parts of us are psychologically lifeless - unconscious, unfeeling, uncaring, unyielding, and unwilling to alter "their" way. Are we attentive to the traumatic tale they tell?
Dr. Redelfs suggests that these "Rocks" we are tripping on or the "Minerals" we are struggling with are actually reflecting an insensitive, unconscious, habitual, or inhuman aspect of our own nature. Interacting with these "Rocks and Minerals" outside of ourselves can aid us in becoming more human and more fully alive. We soon realize that our maturation requires our efforts to develop all kinds of people, especially those whose problematic behaviors are screaming for help. Are we listening? When we're not, these problems escalate to grab our attention. In response to this escalation, The Awakening Storm gives vital information that we yearn for, but because of our stress reactions, we are often reluctant to hear.
Clear direction out of our global predicament is but one book away! Get your copy today at: http://www.mirabooksmart.com/The-Awakening-Storm_p_499.html OR theawakeningstorm.vpweb.com.