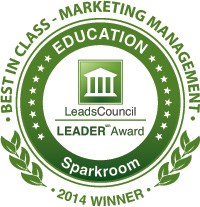 Paramus, N.J. (PRWEB) February 12, 2014
Sparkroom was awarded the 2014 Best in Marketing Management Technology LEADER Award, presented by LeadsCouncil, an association comprised of inquiry buyers and inquiry sellers. This award acknowledges Sparkroom's commitment to making the lives of marketers easier and strengthening the efficacy of performance marketing campaigns. Sparkroom, a CUnet technology, won the Best in Class Marketing Management LEADER Award in 2013, making this year's award the second consecutive win for Sparkroom in this category.
"This is a great award to get because it's a message from lead generation insiders to the rest of the industry that Sparkroom is the best solution for managing your performance marketing campaigns," said Al Huizenga, managing director of Sparkroom. "And to be honest, we couldn't agree more."
The LEADER Awards are presented by the LeadsCouncil to help inquiry buyers identify partners that best suit their needs. The LeadsCouncil is an independent association whose members are united in a common goal of promoting best practices and fostering trust within inquiry generation across a number of verticals including higher education.
"The Sparkroom team has been working hard to continually and proactively address the needs of performance marketers as they work to increase enrollments while keeping recruitment costs in check," said Todd Eicher, CEO of CUnet. "This award represents their commitment to empower marketers with real-time, actionable intelligence and powerful automation capabilities."
Sparkroom is cloud-based software that helps marketers track and analyze key performance indicators across their marketing campaigns. It provides the ability to analyze and understand the effective cost and performance of individual campaigns across campuses, program areas, degree types and more. Pre-built integrations for customer relationship management applications, student information systems, business intelligence systems, scoring platforms and more enable Sparkroom to become the hub of all performance marketing activities. Sparkroom provides an unprecedented level of transparency into education marketing campaigns, allowing marketers to do more with fewer resources.
To request a personal Sparkroom demonstration, click here.
About Sparkroom
Sparkroom is the most advanced and widely deployed performance marketing software for higher education, processing more than one million inquiries each month. Sparkroom is owned by CUnet, a full-service, digital marketing agency specializing in identifying and recruiting students for the higher education industry. Since 2003, CUnet has helped colleges and universities reach enrollment goals through interactive marketing applications and technology. CUnet is a subsidiary of Nelnet (NYSE: NNI), a leader in education planning and financing for more than 30 years. For more information about Sparkroom, visit http://www.cunet.com/sparkroom.
###