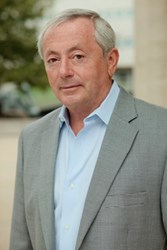 Norwalk, CT (PRWEB) February 11, 2014
Steven Winter Associates Inc. (http://www.swinter.com) is pleased to announce that firm President, Steven Winter, has been selected to join the 2014 Hanley Wood Sustainability Council. Mr. Winter is one of ten cross-disciplinary experts handpicked to guide the Council's Vision 2020 initiative, which is now in its third year.
The genesis of the Vision 2020 initiative is not only to examine the real dangers and threats of climate change, but to intently focus on the opportunity for innovation that it provides. Hanley Wood first convened the council of thought leaders in 2012 to identify and explore sustainability challenges, share research findings, and promote collaboration in order to reduce the environmental impact of the built environment by the year 2020. The initiative focuses on guiding the construction and design industry on the path towards sustainability.
The Council is comprised of high performance building experts, representing diverse focus areas including building design and performance; economics and financing; energy efficiency and building science; green codes, standards and rating systems; indoor environmental quality; materials and products; sustainable communities; and water efficiency. Steven Winter will be one of two council members who will concentrate on energy efficiency and building science.
"It's not often that you get the opportunity to sit down and share ideas with such a high caliber group of people who all want to make a positive contribution to sustainability, free of profit motive," stated Steven Winter. "I look forward to sharing the passion for sustainability with the rest of the Council to help achieve Vision 2020."
Steven Winter has been at the forefront of the U.S. sustainable/green building movement since its beginnings. He has served in several industry leadership positions including Chairman of the U.S. Green Building Council (USGBC) from 1999-2003, where he helped to launch the Leadership in Energy and Environmental Design (LEED®) rating system and Greenbuild, the world's largest conference dedicated to green building. His personal expertise revolves around program management, green systems and products, energy efficient housing, and the U.S. housing industry.
As a powerful media, event, and marketing services company, Hanley Wood is able to provide opportunities for informing and educating the market about sustainable design and construction to improve the quality of life for all people. Hanley Wood fills the council with experts to explore sustainability metrics, milestones, and opportunities for the residential and commercial construction and design industry.
About Hanley Wood
Hanley Wood is the premier information, media, event, and strategic marketing services company serving the residential, commercial design and construction industries. Utilizing the largest editorial- and analytics-driven construction market database, the company produces powerful market data and insights; award-winning publications, newsletters and websites; marquee trade shows and executive events; and strategic marketing solutions. To learn more, visit http://www.hanleywood.com.
About Steven Winter Associates, Inc.
Steven Winter Associates, Inc. provides research, consulting and advisory services to improve commercial, residential and multifamily built environments for private and public sector clients. The firm specializes in energy, sustainability and accessibility consulting as well as research and development;certification and compliance; analysis and testing; training and outreach; and other services. Our engineers and architects have led the way since 1972 in the development of best practices to achieve high performance buildings. As a matter of course, we collaborate with our clients to produce the most cost-effective and innovative solutions. For more information, visit http://www.swinter.com.