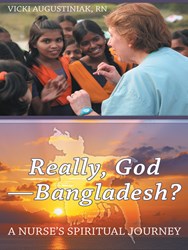 Detroit, MI (PRWEB) February 09, 2014
Traveling the world to provide medical care to the citizens of foreign countries was a longtime dream come true for registered nurse Vicki Augustiniak.
Her latest book, "Really, God Bangladesh?," is an evolved memoir created from her subjective daily diary entries that highlight the major milestones of a nurse who chose to leave her comfort zone in an effort to touch the lives of those in need through her faith, work and travels.
With more than 41 years of extensive experience in her profession, Augustiniak was given several opportunities to further her career by traveling internationally as a nurse. After her initial trip to Bangladesh, Augustiniak traveled to the Philippians and South Africa.
"I was totally changed by the first trip and kept writing my diaries. I felt a need to continue writing about my experiences with each trip," Augustiniak said.
Travel along-side Augustiniak as she shares her journey from her troubled childhood into her defining adulthood, ending with reflections on her travels to new countries to offer her talents and care.
Unforeseeable events during one of her trips lead Augustiniak to experience firsthand the overwhelming lack of medical care available in a foreign country. It is through Augustiniak's struggles that she is able to gain nursing experience that simply cannot be taught. With these exceptionally unique trips, Augustiniak's deep passion for nursing inspires her to actively work to build a hospital in Bangladesh were improved medical assistance can be offered.
"Really, God- Bangladesh?"
By: Vicki Augustiniak
ISBN: 978-1-4624-0510-7
Available at Amazon, Barnes and Noble and InspiringVoices online bookstores.
About the author
Vicki Augustiniak continues to further her experience as a registered nurse in Troy, Mich., where she resides with her husband. Augustiniak is actively involved with her community and aims to put profits from "Really, God- Bangladesh?" directly to support a project to build a hospital in Bangladesh.