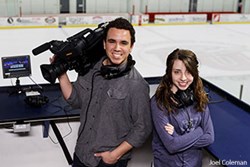 Lynchburg, VA (PRWEB) February 10, 2014
Two Liberty University students from the School of Communication & Creative Arts will have the opportunity to put their experience in media technology to work at the 2014 National Association of Broadcasters Show April 5-10 in Las Vegas. The NAB is the world's largest electronic media show.
Seniors Samuel Farnsworth and Jerusha O'Dell were selected to participate in the Sony NAB Student Experience, where they will demonstrate the company's latest technologies at the show. They will join about 50 students from universities around the country. Last year was the first year Liberty students were selected to participate.
In preparation for the event, the students will spend two days learning about the newest Sony products, then spend the next four days demonstrating their features to more than 93,000 attendees.
"I'm really looking forward to learning about all of Sony's equipment and meeting the students from all the other colleges," O'Dell said. "I also can't wait to see the actual event itself and network with all of the people there."
The School of Communication & Creative Arts offers a number of opportunities for students to gain hands-on experience outside the classroom and prepare for careers.
"The NAB show provides one more avenue for our students to gain real-world experience during their time of enrollment here in our school," said Dr. Norman Mintle, dean of the School of Communication & Creative Arts. "We have a unique program that provides professional opportunities for our students — to migrate from the classroom into a media world where they work side-by-side with professionals to hone their skills — thus, better preparing them for jobs after graduation."
O'Dell and Farnsworth have both worked behind the scenes at Liberty's Winterfest New Year's event, Convocation, and Campus Church services, as well as NCAA and Club Sports broadcasts. O'Dell has worked for the School of Religion as a media producer, and Farnsworth has worked as a director and cameraman for Liberty's live-streaming media crew.
"Liberty really has helped equip me for my future in broadcasting," said Farnsworth, who hopes to work for ESPN one day. "The opportunities outside of the classroom with the Liberty Flames Sports Network (LFSN) that the school offers students is truly invaluable. I've been able to work with professional broadcasting equipment that is used out in the 'real world.'"
Pam Miller, director of student programming and a professor of digital media and communication arts, said O'Dell and Farnsworth will represent Liberty well at the NAB show.
"I am particularly proud of Jerusha and Sam because they are showing their technical competency and growing as Christians who live out their faith," she said. "The way they interact with faculty, students, and staff is a testament to each of their commitments to demonstrate Jesus to the world in which they live."
She said that as Liberty students continue to excel in various areas of digital communications, opportunities like the NAB Student Experience give them direct access to the latest innovations in their field.
"We have a growing number of technically competent students on campus and we certainly wish we could send all of them," Miller said. "We hope as years go by, and as we send the best of our qualified students, Sony will open the door for more and more Liberty digital media majors."
About Liberty University
Liberty University, founded in 1971, is the largest private, nonprofit university in the nation, the largest university in Virginia, and the largest Christian university in the world. Located near the Blue Ridge Mountains on more than 7,000 acres in Lynchburg, Va., Liberty offers more than 300 residential and 160 online education programs from the associate to the doctoral level. Liberty's mission is to train Champions for Christ with the values, knowledge, and skills essential to impact tomorrow's world.