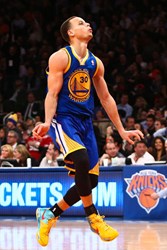 Denver, Colorado (PRWEB) February 08, 2014
It's 51 games into the 82-game NBA regular season and things are heating up for numerous squads around the country. Out west, the wobbly Warriors have stopped the bleeding at home, at least for now, where they had lost four of five.
They've already lost nine games on their floor after dropping only 13 at home all of last season. But with a 102-87 win Thursday night to tame the Bulls, the Curry-led Warriors are on the move. Golden State jumped the Phoenix Suns, whom they play tonight, to move into second in their division and sixth in the Western Conference.
"Fans are strapped in tight on the Golden State roller coaster," said Marta Ault at online ticket marketplace BuyAnySeat.com. "Despite their ups and downs, the Warriors continue to curry favor with their fans by charging back up the standings and remain a title contender."
"That's why we're proud to offer fans the most comprehensive and continuously updated selection of sports tickets online, with a worry-free guarantee to protect their purchase," added Ault.
"To access the full line-up of NBA Basketball tickets now available, customers can go to BuyAnySeat.com and click on NBA in the Sports Header, then select their team and their tickets."
Despite a 5-7 mid-season slump suffered during an injury to swingman Andre Iguodala, the Warriors stand at a sturdy 30-20 on the year. Golden State has shown their potential for greatness on numerous occasions this year, but has lacked consistency.
During a ten game winning streak in December and January, the Warriors knocked off three of this week's top ten teams in the Clippers, Heat, and Suns. However, they have countered their prodigious play with wrenching home losses, most recently a 91-75 trouncing at the hands of the Charlotte Bobcats.
The Warriors have their eyes set on a division title, but face the tall task of chasing down a surging LA Clippers offense. The Clippers rank first with 112.5 points per 100 possessions, despite the absence of injured star point guard Chris Paul.
The Clippers will be looking over their shoulders to see if Curry can continue to carry his squad. After all, it was his 34-point performance against the Bulls that propelled the Warriors to victory in a game that looked lost in the first half.
With just a three game lead over the Warriors, as of February 7, the Clippers can ill afford to falter in the second half. If both teams are able to stay healthy, the Pacific Division race is one fans appear eager to see play out.
Curry played for the Wildcats of Davidson College from 2006 to 2009. In 2008–09, he led the nation in scoring with 28.6 points per game and was a consensus first-team All-America selection. He set school career records for three-point field goals, free throws, 30-point games and 40-point games, set a single season NCAA record for three-pointers, and led Davidson to two NCAA tournament appearances in a row.
The top ten teams in this week's power rankings are the 40-11 Oklahoma City Thunder, 38-10 Indiana Pacers, 35-14 Portland Trail Blazers, 34-18 LA Clippers, 36-14 San Antonio Spurs, 35-13 Miami Heat, 33-17 Houston Rockets, 29-20 Phoenix Suns, 30-20 Golden State Warriors and 29-21 Dallas Mavericks.
Today's top basketball related ticket sellers include the Harlem Globetrotters, New York Knicks, Brooklyn Nets, Miami Heat, Washington Wizards, Indiana Pacers, Boston Celtics, Los Angeles Lakers and Golden State Warriors.
To shop for NBA Basketball tickets, visit BuyAnySeat.com.
About BuyAnySeat.com: An online ticket marketplace, BuyAnySeat.com connects sports, theater and other live entertainment fans to an extensive network of ticket sellers worldwide. The site's simplified listings and navigational tools enable shoppers to easily locate, compare and purchase inexpensive, discounted or lower-priced tickets to virtually all advertised sports and entertainment events around the globe.
The ticket marketplace, which is PCI-compliant and Norton Secured, also provides customers with a complete Worry-Free Guarantee on all ticket purchases. Based in Denver, Colorado, BuyAnySeat.com is a subsidiary of Denver Media Holdings. For more information, please visit http://buyanyseat.com.