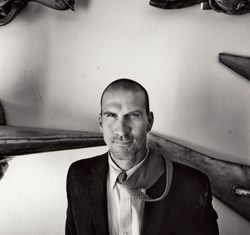 "Bates' work is astounding"-Picasso
Los Angeles, CA (PRWEB) February 11, 2014
Bates Wilson has morphed into a collected sculptor by discovering old, abandoned metal, mostly archaic auto parts, and up-sourcing it into beautiful and original works of art. Bates says, "Metal will never wear out. I like the way it ages, and I like the patina. I enjoy exploring the medium, the process of discovery, and finding new ways to satisfy myself creatively." He is not the only one satisfied with this authentic sculpting. His clients range from International Hedge Fund Managers to A-list Actors to other envious artists. Former Police guitarist, Andy Summers, recently purchased a steam punked guitar. Bates enjoys working with icons, taking something that people see every day and seeing how he can express something a little differently with that idea. He has outdone himself with his brand new series of artistic surfboards. International collectors will be on hand for Bates Wilson's new surfboard collection on February 14th at the "Vail International Gallery."
One of the most compelling stories about Bates revolves around his American flag creation. During the artist's residency in Canada during 2001, Bates was commissioned to create an American flag.
"I like the stars and stripes. It's a powerful symbol, especially in our society." The 4' by 5' flag, made from aluminum and copper, was completed by the end of summer in 2001. Having lost a friend in the September 11th attacks, Bates returned his commission and kept the flag. He brought it to Union Square and left it there for about a week. People visiting the makeshift memorial on 14th Street used ice picks to scribe their names and their thoughts on it. Bates says, "This was no easy feat and to some, the aggressive carving may have been the only outlet they had to share their thoughts and vent their frustrations regarding the tragedy at a time when we all felt so helpless." After a brief trip to Chicago, Bates donated the flag to the New York Historical Society where it resides today in its permanent collection.
Hailed from Atlanta, Bates moved to New York City in the late '80's to pursue a career in performing. Out of necessity, he began to furnish his apartment with pieces of furniture made from discarded metal. As Bates himself says, "The idea is to make something new out of old things; to take that which is discarded and renew the life it once had. Art should allow for the continuous evolution of materials and ideas." Bates suggests that in the beginning, "wood was too hard to work with, especially in my apartment. Originally what I was making was all from recycled materials. I'd use what I could find like sheet metal or drywall beams that would flatten out." And hence, a star craftsman was born. Bates has been a successful sculptor for over 20 years. with his work being displayed in exclusive galleries, and respected art magazines throughout the world. And his beautifully crafted and authentic work is also proudly displayed in beautiful homes in the U.S. and abroad. Bates is looking forward to having his work evolve from his new Los Angeles studio located in the famous Brewery District of downtown Los Angeles where artists from all over the world reside. To discover more about this acclaimed sculptor, please visit http://www.bateswilson.com.