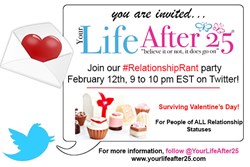 Valentine's Day is bittersweet – it's hard for singles to face alone and while it may be great for couples, it can also set high expectations
Atlanta, Ga (PRWEB) February 11, 2014
Valentine's Day is meant to express your love, but for many men and women it's a chance to express just the opposite. Your Life After 25, a women's blogazine working to entertain, educate and empower, is encouraging men and women - single or taken - a chance to share their heartache and survival tips for the much-anticipated holiday.
Your Life After 25 invites men and women to participate in its "Surviving Valentine's Day" #RelationshipRant Twitter Party on Tuesday, Feb. 12 from 9 – 10 p.m. Attendees can enter for a chance to win prizes, including an Endless Love movie prize pack by registering for the Twitter party in advance. Da Vinci, founder of Your Life After 25, will encourage all participants to interact and share tips for conquering the holiday and setting expectations to avoid disappointments with significant others.
"Valentine's Day is bittersweet – it's hard for singles to face alone and while it may be great for couples, it can also set high expectations," said Your Life After 25 Founder Da Vinci. "I wanted to give everyone a convenient way to join in the conversation and express their feelings about Valentine's Day, and help them get through what they may consider to be the toughest day of the year."
To join the conversation, follow @YourLifeAfter25 and use the hashtag #RelationshipRant on Tuesday, Feb. 12 from 9 - 10 p.m. Register in advance for the party and a chance to win great prizes.
This is the second #RelationshipRant Twitter Party of the year that attracts men and women of all ages (must be 18 and older) from all over the U.S. Your Life After 25 will host several more #RelationshipRant Twitter parties focused on relationship-based topics throughout 2014. Dates will be announced via the website and social media sites. If you are a relationship expert or a celebrity who would like to be featured as a special guest on the next Twitter party, please contact us.
About Your Life After 25
YourLifeAfter25.com (YLA25.com) is a lifestyle and women's blogazine working to "Entertain – Educate – Empower." Its mission is to assist women to get rid of the old expectations of who you should be by the age of 25 and celebrate who you will be after 25. Your Life After 25 is about living life to the fullest when society makes one think and feel like it's all down hill from there. Your Life After 25 covers many topics from women's issues, relationships, fashion, food, women in business, and causes like rape/domestic violence and suicide prevention awareness.  
Founder Da Vinci, who has also been a featured blogger for Blogads, and Co-owner Dante Trimble, are currently working on events and launching more exciting YLA25 projects.
For more information, please visit http://www.yourlifeafter25.com
Follow us on Twitter, Facebook, Pinterest and Instagram @YourLifeAfter25.