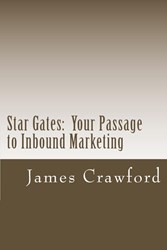 Washington, DC (PRWEB) February 12, 2014
The second edition of Star Gates: Your Passage to Inbound Marketing, is now available on Kindle. The popular guide provides objective analysis of the Big 4 vendors – HubSpot, Pardot, Marketo and Oracle Eloqua – helping newcomers reach a decision on the best inbound marketing solution to meet their company's needs.
Unique in its field, Star Gates is the only book to provide side-by-side comparisons of HubSpot, Marketo, Pardot and Oracle Eloqua based on price, functionality and performance. Authored by former investigative journalist James Crawford, the book relies on independent research, and its findings are completely unbiased either for or against any inbound marketing vendor.
Designed for C-level executives, marketing, advertising and media professionals, Star Gates reviews each vendor's strengths and weaknesses, and tells which vendors offer the most – and least – attractive deals in inbound marketing. Case studies show how vendors have helped companies build inbound marketing programs that drive better qualified leads and boost conversions. With inbound marketing, one company grew revenue 400 percent in a single year.
Star Gates also reveals pitfalls to watch out for: (1) vendors that quote the price in monthly increments but require quarterly or annual contracts and payment; (2) steep mandatory training fees; (3) hidden charges for database storage; and (4) in the case of one vendor, mandatory up-front payment for the full year's cost of software, training and database storage of contacts.
"In the absence of a 'dummies' book, newcomers to inbound marketing need a candid guide that can set them on the path to success , and steer them away from costly mistakes," says James Crawford. "To that end, the goal of Star Gates is to provide an education on inbound marketing at an affordable price, to reach and help the broadest possible audience."
The second edition includes new information on the four disciplines essential to success in inbound as well as content and SEO marketing – keyword research, keyword testing, on-page and off-page website optimization, and content engineering – and updates on vendor pricing.
Star Gates: Your Passage to Inbound Marketing is available on Amazon: $4.99 for the Kindle version and $14.39 for paperback. Book details at http://www.crawfordpr.com
Contact:
James Crawford
703-498-7315
jcrawford(at)crawfordpr(dot)com