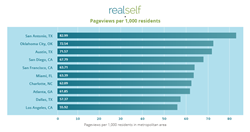 Seattle, WA (PRWEB) February 10, 2014
RealSelf, the leading online community helping people make confident choices in elective cosmetic procedures, today revealed its list of the 10 US metropolitan areas with the highest interest in plastic surgery, with San Antonio* topping the list. Notably, three of the top 10 cities fall in Texas.
As Americans resolve to better themselves in the new year, online searches soar for cosmetic surgery. The US market for cosmetic procedures is an estimated $11 billion annually. Analyzing tens of millions of consumer searches**, RealSelf found the highest concentration of plastic surgery interest in the following 10 metro areas:
Top Cities Interested in Cosmetic Surgery
1. San Antonio
2. Oklahoma City
3. Austin
4. San Diego
5. San Francisco
6. Miami
7. Charlotte
8. Atlanta
9. Dallas
10. Los Angeles
Falling just short, at number 11, was Salt Lake City—an area well known for having a high number of plastic surgeons per capita, and ranking number two for breast augmentation searches, behind Oklahoma City. At 12 and 13 were the Seattle and New York City metro areas, respectively—with NYC topping pageviews for the Brazilian butt lift, beating out Miami and Atlanta.
For contrast, the metro areas with the highest number of surgeons per capita were also calculated, by total number of board certified plastic surgeons per 100,000 residents:
Cities with the most Plastic Surgeons Per Capita
1. Salt Lake City
2. Miami
3. San Francisco
4. Jacksonville
5. Charlotte
6. Austin
7. Los Angeles
8. Portland, OR
9. Tampa
10. Birmingham
With over 4.5 million unique visitors per month, RealSelf brings communication and transparency to a growing group of ultra-savvy consumers who are searching for ways to improve their appearance—like a TripAdvisor of treatments for the face, body and smile.
*Perhaps not coincidentally, San Antonio also topped Amazon's recent Most Romantic Cities list.
**Pageviews were counted in metropolitan areas with at least 1 million residents, based on average number of pageviews per 1000 residents between November 2013 and January 2014, for the top ten most researched procedures on RealSelf: breast augmentation, Brazilian butt lift, tummy tuck, rhinoplasty, breast reduction, mommy makeover, Botox, liposuction and eyelid surgery.
Editor's Note: Detailed regional metrics and expert commentary from RealSelf data analysts are available upon request
About RealSelf
Since its founding in 2006, RealSelf has created the world's largest community for learning and sharing information about cosmetic surgery, dermatology, dentistry, and other elective treatments. Dedicated to helping people make suitable and empowered decisions, RealSelf features consumer reviews, Worth It Ratings, pricing information, and thousands of before and after photographs. The site also includes safety information and Q&A with more than 6,000 board-certified doctors. http://www.realself.com/about