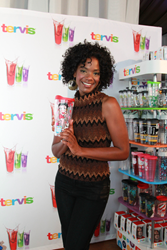 Beverly Hills, California (PRWEB) March 08, 2014
Hollywood's elite took an opportunity to relax, mingle, refresh with cocktails served in Tervis tumblers http://www.tervis.com (of course!), and snag some swag before films' most important night – The Academy Awards – at the GBK Pre-Oscar Gifting Lounge in Beverly Hills' swanky L'Ermitage Hotel.
Actors from Oscar winning and nominated films Blue Jasmine, Dallas Buyers Club, Wolf of Wall Street, and 12 Years a Slave expressed themselves – and stayed hydrated – by picking the Tervis designs that spoke to them. Whether it was blinged out initials, iconic characters, super heroes, quippy workout-friendly phrases, or a custom-made Academy Award commemorative tumbler, there was something for every personality.
Other guests included Hollywood legends: Penny Marshall, Alanna Masterson ("The Walking Dead"), Shanola Hampton ("Shameless"), and Anthony Anderson ("Guys with Kids"), Caitlin Carmichael ("The Wicked"), Sugar Ray Leonard, and Tamala Jones ("Castle") to name a few.
Carnie Wilson selected tumblers for her kids…in fact, her daughter seems to have claimed all of them. Cheri Oteri selected a water bottle to quench her thirst during workouts. And Miss J Alexander snagged some extras for Tyra Banks, who he was planning to visit this week.
Tervis insulated drinkware has thousands of designs to choose from and keeps hot drinks hot and cold drinks cold. They are made in America and offer a lifetime guarantee. They are available at thousands of retailers nationwide including http://www.tervis.com, Tervis company stores, Bed, Bath & Beyond, Macy's, and Dick's Sporting Goods.
Additional high res photos are available at http://bit.ly/1iiepzd (photo credit GBK Productions).
About Tervis: Tervis has been making fabulously fun, insulated drinkware in America since 1946. Tervis products keep hot drinks hot and cold drinks cold, are microwave, dishwasher and freezer safe, reduce condensation, have a lifetime guarantee, and can be personalized for any hobby or interest. In fact, Tervis has thousands of designs to choose from, including license agreements with some of the world's most beloved brands and sports teams. Tervis is more than drinkware; it's a lifestyle that's truly an everyday, on-the-go way to express yourself. Tervis products are available at tervis.com, Tervis company stores, and thousands of retailers nationwide. For customer info, call 866-TUMBLER, or visit us at on Facebook: TervisTumblerCo, and Twitter @tervistumbler. The Tervis factory and headquarter is located at 201 Triple Diamond Blvd., North Venice, Florida, 34275.