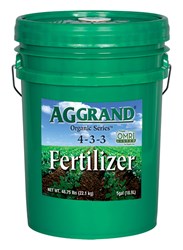 (PRWEB) February 10, 2014
This past summer Pacific Ag Research of San Luis Obispo, CA conducted an independent growth study to compare the effects of using AGGRAND Organic Series Formula 4-3-3 Fertilizer on hand-transplanted fresh market Early Girl tomatoes to the same plants with no added fertilizer. The study was conducted in Arroyo Grande, California on irrigated sandy clay loam soil. The fertilizer was diluted with water and applied with backpack and tow- behind sprayers.
The AGGRAND fertilized tomato plants yielded 10 percent more, by weight, of marketable tomatoes than the untreated plots. This initial study reveals an advantage of applying AGGRAND. Continued use of the product would increase bacterial activity in the soil, leading to stronger, healthier plants. The amount of bacterial activity in soil is determined by measuring the carbon dioxide produced by microorganisms. Higher levels indicate more bacterial activity, hence more potential nutrients becoming available to the plants.
AGGRAND offers a complete line of natural-based products, providing an alternative to the potentially harmful chemical fertilizers on the market. The company's natural and organically-based products, make AGGRAND an environmentally responsible choice.
AGGRAND®
925 Tower Avenue, Superior, WI 54880
rholappa(at)amsoil(dot)com
715-399-6454 Phone