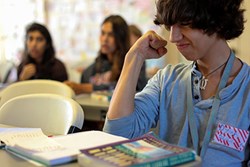 Chicago, Illinois (PRWEB) February 10, 2014
Only 46% of high school students are prepared to face the rigorous demands of college, according to the Illinois State Board of Education. Summer enrichment programs are one way that parents are helping their teens prepare better, focusing on academics, social and communication skills.
SuperCamp, an academic, life and career skills camp, is holding programs at Loyola University Chicago this summer to help teens improve grades, confidence and motivation. "It's about helping students discover that learning can be fun, which leads to intrinsic motivation," says President Bobbi DePorter. "More students are applying to top colleges than ever before. They need to know how they learn best and gain powerful strategies that help them excel. "
Even top-performing students may find themselves unprepared. Many students with academic talent coast through middle and high school, earning A's with little to no effort, says DePorter. When they go to college and find work that challenges them, their work ethic and study habits often aren't sufficient to succeed.
Researchers from the CRIS initiative argue that college readiness extends far beyond academic success. Determining success rates among students, they insist, requires new and different ways to measure college readiness that extend beyond test scores and grades. 40% of high school students are chronically disengaged from school, and confidence and motivation are often overlooked.
Craig McKenna, a SuperCamp graduate from Hinsdale, says that he left the program feeling better about his relationships and better about himself. "I met some incredible people who pushed me to a level I never thought existed in me," he says. "If you want to learn how to succeed in life, this is the place to be."
About SuperCamp
SuperCamp is the world's leading academic and life skills summer camp. For more than 30 years, SuperCamp has helped students increase their grades, confidence and motivation. SuperCamp has made a difference in the lives of over 70,000 graduates worldwide, with 73% of students improving grades, 81% experiencing increased confidence and an average 100-point increase on SAT scores. Chicago sessions for middle and high schoolers run from July 14-20 and July 23-August 1.
Contact:
Mariah Gillespie
SuperCamp
760-722-0072 x 171
# # #