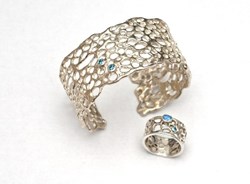 There's something so calming about all the organic designs from La Corza. -Brittany Siminitz, JCK Marketplace Manager
Seattle, WA (PRWEB) February 11, 2014
La Corza, an emerging brand in the luxury jewelry market, are making their mark in London during February's Fashion Week, Feb. 14 - 18, 2014. With stunning new collections inspired by the beauty and diversity of the natural world, La Corza combines time-honored techniques with fashion-forward styling in a wide range of necklaces, earrings, rings, and bracelets for those who appreciate their connection to the natural world.
In London, La Corza will exhibit their AW14 lines as part of Wolf and Badger's exclusive fashion event at the legendary Savoy Hotel on February 15. La Corza will be unveiling their Rocky Shores and Organic Architecture collections.
Following, on February 18, the La Corza debut moves to Avant Premiere's fashion showcase at Kettner's in the heart of Soho. Attendees can join the designer for an exclusive reception at The Hospital Club of London.
Both events are invitation-only. If interested in attending as a member of the press, please contact La Corza with your credentials.
For more information: http://www.lacorza.com. Annamarie Sabo is available for interviews and photos on a limited schedule. Please inquire for details, press kit, and photos.