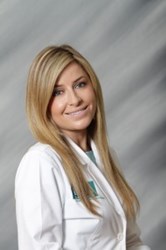 San Diego, CA (PRWEB) February 10, 2014
Dr. Sabrina Fabi of Cosmetic Laser Dermatology in San Diego announced today that she has received the Vitals Compassionate Doctor Award for 2013. Vitals is a website that provides powerful search tools and comprehensive information on doctors to help patients make sense of their choices quickly and confidently.
The award was determined by patient satisfaction, and of the nation's 870,000 active doctors, only 3 percent will be accorded this honor by their patients for the past year. This distinction is another testament to Dr. Fabi's expertise and why nationwide television shows such as "The Doctors" commonly seek her opinion for complex patient cases.
"My patients are my top priority and it's an honor to be recognized by them," Dr. Fabi said. "I'm pleased and humbled that my patients feel so great about the time they spend in my office and their customized cosmetic procedures, be it Botox or San Diego liposuction, that they want to share their positive experiences with others."
Vitals Compassionate Doctor Award is part of the Vitals Awards & Recognition Program, where patients rate and review their doctors. An icon denoting Dr. Fabi's distinction as a 2013 Vitals Compassionate Doctor Award will be prominently displayed in her profile on Vitals, managed care sites, and top health insurance sites. More than 12,000,000 people visit Vitals' network of sites each month.
"This award is so unique because while physicians generally receive positive feedback from their patients, it's rare to also hear praise about the compassion that accompanied their care," Dr. Fabi stated. "Fully understanding a patient's circumstances and choosing the treatments that best fit their individual needs is an integral part of my practice."
Vitals aims to make better health possible. They are a leader in providing online tools and actionable data that enable healthcare consumers to make more informed decisions about the cost and quality of their medical care. Through health plans, hospitals, and leading consumer websites, Vitals helps more than 150 million people each year access information for better, more affordable care.
"On Vitals, patients write about their experiences with San Diego dermatologists and rate their doctor on several components of care, including bedside manner, doctor-patient face time, and degree of follow-up," Dr. Fabi explained. "Patients also provide an overall rating, so it's a thorough review process. I appreciate the time I spend with each and every client. I'm grateful that patients have taken the time to recognize my work."
Sabrina G. Fabi, MD, is a double board certified dermatologist and cosmetic surgeon who serves as the head of research and clinical trials at the landmark dermatology center of Goldman, Butterwick, Fitzpatrick, Groff & Fabi in San Diego. As a specialist in laser and injectable treatments, Dr. Fabi helps patients achieve ideal aesthetic results through multiple cutting-edge procedures including non-invasive Ulthera skin-tightening, Photodynamic Therapy, Sclerotherapy, and volume restoration with dermal fillers. As a highly-respected dermatologist in San Diego, Dr. Fabi believes in developing a unique and custom treatment plan for each and every patient she sees.