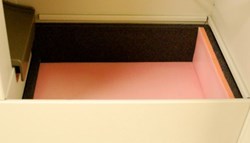 We have talked with hospitals concerned with noise from pneumatic tube system stations and about the need for a quiet environment for patients to heal and for staff to concentrate. - Atreo Services President Dennis McWherter
Denver, CO (PRWEB) February 11, 2014
Atreo Services, a Denver-based provider of personalized service and support programs for hospitals that use automated material transport systems, introduces a bin liner for 4-inch and 6-inch pneumatic tube system stations. A portion of proceeds from sales will be donated to Susan G. Komen® for breast cancer research.
The station bin liner promotes quiet and soft delivery of carriers in most brand-name 4-inch and 6-inch hospital pneumatic tube systems. Atreo's station bin liner features impact-absorbing walls and a coated surface that assures quick and easy cleanup of spills, while reducing noise and minimizing impact. Atreo's station bin liner is fast and easy to install, and can be rapidly removed for cleaning and disinfecting with common bleach and water.
"As tube system users, we became accustomed to the noise of carriers slamming into the stations upon arrival," says Alan Green, plant operations supervisor with DeKalb Medical, Decatur, Ga. "But more than ever, we need to focus on creating the quietest environment possible for patients and staff. The Atreo station bin liner reduced noise levels significantly and our team really noticed the difference."
"We have talked with hospitals concerned with noise from pneumatic tube system stations and about the need for a quiet environment for patients to heal and for staff to concentrate," says Atreo Services President Dennis McWherter. "Our station bin liner addresses these concerns by providing an attractively priced solution to reduce noise and minimize carrier impact upon arrival. Each purchase has the added value of supporting breast cancer research as well. This donation represents Atreo's commitment to supporting health issues of concern to the communities we serve."
Atreo Services offers quantity discounts on station bin liners. Contact Atreo Services at 303.327.8185 to talk with a representative. Visit http://www.atreoservices.com or Atreo on LinkedIn for more information.
About Atreo Services
Atreo Services is a Denver-based company that provides rapid, reliable service and predictable pricing for hospitals and financial institutions nationwide that use pneumatic tube systems, automated trash, recycling and soiled linen collection and transport systems, vertical conveyor systems, and access control systems (installation and support). The company also offers pneumatic tube system accessories.
Atreo's philosophy is to listen to the customer first, and then strive to give them exactly what they need. Atreo partners with hospital engineering facility teams challenged by reduced budgets, limited personnel and increased delivery expectations. The company tailors service and support programs to the unique operating environment of each organization. Atreo Services is a subsidiary of TransVac Solutions, the leader in automated trash, recycling and soiled linen collection and transport solutions for hospitals (http://www.transvacsolutions.com). For more information, visit http://www.atreoservices.com.