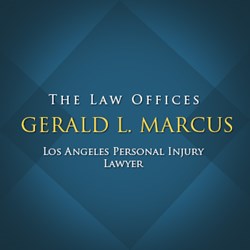 Los Angeles, CA (PRWEB) February 07, 2014
Attorney Gerry Marcus –founder of Los Angeles law firms The Law Offices of Gerald L. Marcus and the Professional Accident Injury Network – has dedicated his professional career and personal life to helping injured victims and families navigate difficult times. As an injury attorney, Mr. Marcus fights on behalf of the injured to secure the justice and compensation they rightfully deserve. Outside of the courtroom, he also goes the extra mile to give back to the local community and to local residents who continually place their trust in his firm during their times of need. Just recently, Attorney Marcus was named an Honorary Board of Governors Member with the Los Angeles Trial Lawyers' Charities (TLC).
Founded in 2006, Los Angeles Trial Lawyers' Charities is a not-for-profit association supported by Los Angeles area lawyers. The organization's mission to make real impacts on the lives of Los Angelenos in need is served through a focus on supporting issues involving education, children, and the homeless community. The organization supports a wide range of charities throughout the great L.A. area, including Imagine LA, the Los Angeles Mission, The M.U.S.I.C. Foundation, the St. Baldrick's Foundation, and numerous others.
Attorney Marcus has been supporting TLC for three years, as well other community and professional organizations throughout the Southland. In addition to his charitable efforts, Mr. Marcus has helped numerous victims and families across the greater Los Angeles area during the personal injury and wrongful death claim process. Since 1987, he has represented close to 10,000 clients, and has secured nearly $100,000,000 in compensation on their behalves. Just this year, Attorney Marcus was named to the 2014 list of Southern California Super Lawyers® - a distinction held by no more than 5% of attorneys in the region.
Mr. Marcus' level of experience, record of success, and continued community involvement exemplify his character as a legal professional and a native Southern Californian. Injured victims throughout Los Angeles and the surrounding communities who make the decision to work with Attorney Marcus and his firm can be confident that they will be working with a lawyer who is truly passionate about helping others, both in and outside of the courtroom.
About the Author:
Los Angeles Personal Injury Lawyer Gerry Marcus represents injured victims and families who have suffered losses as the result of others' negligence or wrongful conduct. Mr. Marcus and his firm have the experience to handle a wide range of cases, including those involving car accidents, dangerous products, wrongful death, serious injuries, and others. For more information about Attorney Marcus and the services his firm provides, visit http://www.injurynetwork.org.