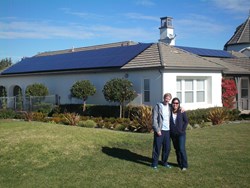 Property Assessed Clean Energy is a game changer for Orange County property owners who have thought about going solar
Irvine, CA (PRWEB) February 10, 2014
The Orange County Solar Program, administered by Sullivan Solar Power announced today that it is providing residents in select cities throughout Orange County the opportunity to finance solar through property taxes. In addition to the new finance option, Property Assessed Clean Energy (PACE), the Orange County Solar Program provides cash-back incentives that allow residents to receive up to $2,000 for going solar.
The local government sponsored PACE program, also known as HERO Financing is repaid annually through a tax assessment and the interest is tax deductible. This allows homeowners to tie their solar investment to property taxes rather than taking a personal loan and the investment stays with the property when a homeowner moves. The cities of Anaheim, Brea, Buena Park, Garden Grove, La Palma, Newport Beach, Placentia, Santa Ana, Tustin, and Westminster have opted into the PACE program.
"Property Assessed Clean Energy is a game changer for Orange County property owners who have thought about going solar," said Daniel Sullivan president and founder of Sullivan Solar Power, "In addition to being able to finance solar through your property taxes, the Orange County Solar Program will pay you up to $2,000 when you sign up."
The Orange County Solar Program launched January 2014 is available to all property owners in the county of Orange. The incentive program is modeled similarly to the former state rebate program where the early adopters receive the greatest incentives. The initiative is limited to 500 participants.
An informational seminar will be held on February 22, at the Tustin Library from 11 a.m.- 12 p.m. This seminar will cover solar technology, rebates and incentives, PACE financing and the Orange County Solar Program.
For additional information on the Orange County Solar Program call 1-800-SULLIVAN or visit http://www.OCSolarProgram.com to RSVP.
About Sullivan Solar Power
Sullivan Solar Power is a turnkey solar system provider that delivers solar electric projects from concept to completion with offices in the Orange County, Inland Empire and San Diego. The company has installed more than 18 million watts of solar power ranging from residential to large commercial and municipal systems. Sullivan Solar Power has a longstanding A-plus rating with the Better Business Bureau, with no complaints filed since its founding in 2004. The firm has been named one of the nation's fastest growing energy companies by Inc. Magazine and services clients throughout Southern California. Regardless of project size and scope, Sullivan is committed to delivering the best products provided by the most qualified professionals to every customer. Visit sullivansolarpower.com for more information.
###