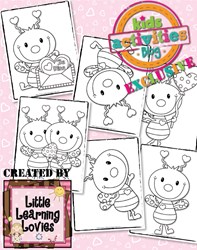 Color with anything but markers and crayons.
Dallas, Texas (PRWEB) February 12, 2014
Valentine's day is just around the corner. Fun filled love bug coloring pages and Valentine's party ideas have been released on Kids Activities Blog. Celebrate the heart filled day with great tips and ideas from seasoned Moms.
The cute coloring pages feature bugs with hearts, bugs tumbling, bugs receiving a Valentines letter, and a cute pair of love bugs.
The pages are perfect for anything but coloring. The design is simple enough to glue tissue paper to fill the page. Another great idea is using colored glue to trace the outline of the pages.
Try laminating the pages for placemats and the kids can have fun coloring them over and over again with dry erase markers. Let the kids have fun sticking beads on the bugs to fill in the page.
Instead of fostering the romantic notions of Valentine's Day, for kids focus on some of the traits of love like friendship, kindness and patience. Healthy attitudes of how to treat people are more beneficial for kids to understand than how to make puppy eyes.
Hearts are easy shapes to cut, so leading up to the 14th, enlist the help of your kids. Cut, paint, and embellish all the hearts for the party. Display them on tabletops, hang them from the ceiling, and tuck them into corners.
There are so many festive dessert possibilities. Decide on a couple favorites that can be made in heart shapes, or fancy up a dessert with paper heart medallions. The list is endless.
For detailed instructions and to get additional fun ideas, check out Kids Activities Blog this week. Come get inspired to have a blast on Valentines day this week.
About Kids Activities Blog
Kids Activities Blog is a website created by two moms (who collectively have 9 children), Rachel Miller and Holly Homer from June Cleaver Nirvana. It is their daily goal to inspire parents and teachers to play with kids. This interactive website publishes simple things to do with kids twice a day. Kids Activities Blog is a great tool for moms and teachers to find kid-friendly activities that create memories and sneak learning into the fun.