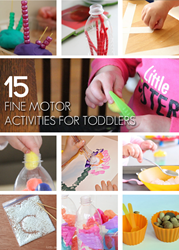 Let toddlers have fun crumbling tissues this week.
Dallas, TX (PRWEB) February 11, 2014
Toddlers like to be busy. Fun fine motor skills activities and an adorable Valentines paper plate roses have been released on Kids Activities Blog. Get ready for fun afternoons together with the kids with items found around the house.
Fine motor activities are such fun for toddlers. Among the many ideas are all sorts of pipe cleaner crafts, painting activities, and pom pom art. Indoor fun activities including scooping and transferring all sorts of kitchen staples such as flour and nuts.
How about a fun game of tissue crumbling? This activity improves strength, dexterity, and exercises grasp motions. One of the simplest ways to work on young children's fine motor skills is to string beads on pipe cleaners.
A color match activity is always fun. Kids love manipulating small beads, matching colors, and practicing their fine motor dexterity.
Supplies needed to make the paper plate flowers are red paper plates, scissors, and a black marker. Cut a "snail" into the red paper plate. It does not need to be perfect. The snail can be lumpy.
If the child has a hard time free-cutting, lightly draw the snail onto the plate for them to cut along. The pencil line is not visible when the flower is finished. Take the outside edge and begin twisting the paper into a flower. Twist the flower as tight as possible. The kids will be amazed at the adorable flower.
For detailed instructions and to get additional ideas, check out Kids Activities Blog this week. Come get inspired to have fun at the kitchen table with the entire family.
About Kids Activities Blog
Kids Activities Blog is a website created by two moms (who collectively have 9 children), Rachel Miller and Holly Homer from June Cleaver Nirvana. It is their daily goal to inspire parents and teachers to play with kids. This interactive website publishes simple things to do with kids twice a day. Kids Activities Blog is a great tool for moms and teachers to find kid-friendly activities that create memories and sneak learning into the fun.