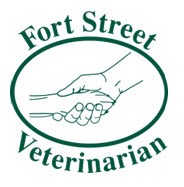 There is an outstanding level of care here and a deep commitment to both pets and their owners.
Omaha, NE (PRWEB) February 10, 2014
Fort Street Veterinarian, located on the corner of 144th and Fort Street in Northwest Omaha, is celebrating its 10th anniversary by adding Dr. Jennifer Jones, DVM, to its roster and by remodeling its pet clinic to accommodate increased demand.
Dr. Jones has been a practicing veterinarian for 11 years and has experience in treating both large and small animals. Born and raised on the East Coast, Dr. Jones graduated from the University of Massachusetts, Amherst, with a Bachelor of Science Suma Cum Laude and holds a degree from the Virginia-Maryland College of Veterinary Medicine. After graduating from veterinary school, Dr. Jones worked first as a large-animal veterinarian and then as a small-animal veterinarian in the Maryland-Virginia area. She recently relocated to Omaha and joined Fort Street Veterinarian in December 2013 on a part-time basis.
"We're delighted to have Dr Jones on board and believe she'll add a great deal of value helping us meet the needs of our clients and their pets," said Dr. Jerry Busselman, founder and owner of the 10-year-old clinic. "Our mission is to provide the best possible veterinary care for pets while maintaining honest and open communications with the pet owners," he said. "Consequently, when we decided to add another part-time veterinarian to our staff, we looked for someone who not only had great credentials but who also had excellent communication skills, someone with a good 'bedside manner' if you will. Dr. Jones fits that bill absolutely."
"I'm delighted to be here at Fort Street Veterinarian, one of Omaha's best vet clinics," said Dr. Jones. "There is an outstanding level of care here and a deep commitment to both pets and their owners. I'm very pleased to be part of this team doing what I love most, helping pets live healthy, happy lives."
In addition to hiring Dr. Jones, Fort Street Veterinarian has also added another examination room and expanded its treatment and surgical areas to accommodate the growth of the veterinary practice. With a new, top-of-line dental unit, new anesthetic machines, new surgical table and lights, as well as central oxygen availability, the clinic is now able to treat a greater number of pets, perform more surgical procedures and better accommodate the schedules of pet owners.
"Providing our clients with additional services and capabilities is a great way to mark our tenth year in business," said Dr. Busselman. "Giving our patients and their owners exceptional care isn't just a job for us, it's our purpose. Seeing how people love and care for their pets grabs our hearts and creates memories that will always stay with us."
From new kitten and puppy exams to senior wellness care, to specialized medical and surgical services, Fort Street Veterinarian gives pets the quality care and attention they deserve to keep them healthy and happy for a lifetime. The clinic is located at 14345 Fort Street in Omaha, NE and was founded in 2004 by Dr. Jerry Busselman, DVM. Three experienced veterinarians are on staff including Dr. Busselman, Dr. Shauna Tordrup, DVM, and Dr. Jennifer Jones, DVM, along with a support team of twelve vet technicians and receptionists. Hours for the clinic are 7AM to 5:30PM Monday, Tuesday, Wednesday and Friday; 7AM to 8PM on Thursdays and 8PM to Noon on Saturdays. More information and customer reviews about "Omaha's Family Vet" can be found at http://www.fortstreetvet.com and on the clinic's Facebook® page.