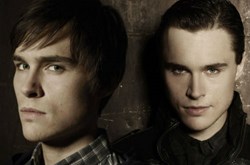 I feel very, very blessed to have this opportunity to play these two people.
(PRWEB) February 08, 2014
TVRage.com's News Editor, Allyson Koerner, recently chatted with Sam Underwood about portraying identical twins on 'The Following,' what it's like playing two psychotic killers, and what we can expect between Mark, Luke and Lily in future episodes.
Here's an excerpt from the interview:
TVRage: "The twins have extremely disturbing moments, like dancing with the dead, eating dinner with their victims, and setting up these real-life, but twisted scenarios. Will we get a deeper understanding as to why Luke and Mark are the way they are?"
Underwood: "Yes, absolutely. As the season goes on, you'll absolutely find out more about their history, where they come from, their idea of family, and how and why family is so important to them. I think what these first couple of episodes are really about is establishing these two very new characters into the [core] of 'The Following.' We already know Mike Weston [Shawn Ashmore], Ryan Hardy [Bacon], Joe Carroll [Purefoy], and Emma Hill [Valorie Curry]. … Again, as the season goes on you find a more human quality in them, which Kevin did so well with the other characters."
TVRage: "Speaking of family, this past episode we learned that Lily (Connie Nielsen) is loyal to Joe and mother to Luke and Mark. Did you always know she'd be playing your mother?"
Underwood: "I was told at the very first scene that I got to rehearse, [which] was the subway murder scene, in Episode 1. Marcos [Siega], the director, came up to me and whispered in my ear, "By the way you need to treat Lily like this, because ... you don't actually mean to do her too much bodily harm, because, by the way, she's actually your mother." (laughs)"
'The Following' airs Mondays at 9/8c on FOX.