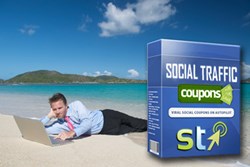 The key to getting Facebook fans reaching for credit cards to make a purchase, is your offer.
(PRWEB) February 15, 2014
For small businesses today, finding the time to do marketing in social media can seem daunting. Trying to get Facebook fans to buy, when they have not purchased from you before seems almost impossible to many. With the rise of consumer purchasing power, every consumer is looking for a special deal. The connectedness of modern consumers has made some consumers almost mercenary in how they go about securing deals.
"We're excited to announce our new Social Traffic Coupons App, it not only creates discount coupons for consumers to redeem on Facebook, it facilitates fulfillment at the point of sale, in real time, using little more than a smart-phone. Our new Facebook App runs powerful and flexible social deals inside your Facebook fan page," founder Simon U. Ford said.
In addition, Ford says, "Offering coupons is a critical ingredient in acquiring new social infused, repeat purchase customers. It's never been more difficult to acquire new customers than it is today, it's never been easier to sell to existing customers either."
"The key to getting Facebook fans reaching for credit cards to make a purchase, is your offer. Marketers try to make selling on Facebook more complicated than what it is, it's plain and simple, if you make the right offer to the right fan, at the right time, you will convert them into customers," says Ford.
This app has some great features too: "You can edit almost any feature, build a list of email subscribers automatically, there is no limit to the number of coupons you can create & you can use our slick, predefined design styles to get started straight away," Ford concluded.
See how this new app could help your business here.
Simon U. Ford is founder of Social Traffic Inc., a social marketing agency specializing in social infused mobile and reputation marketing. The agency's slogan is, "We won't find you new customers, we re-engineer your web presence, so they find you."
You can learn more about Social Traffic, Inc. here.