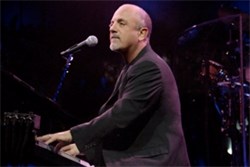 St. Louis, MO (PRWEB) February 08, 2014
Ticket Down announces that the legendary pianist and rock star, known as the Piano Man, is making 2014 his year with a once-a-month residency at the World's Most Famous Arena, Madison Square Garden. That artist is none other than the New York City native, Billy Joel. Joel recently began his residency at MSG and instead of taking a break in between dates, will travel to many other popular and elite venues across the United States. Among the venues Joel will be traveling to this summer include Wrigley Field in Chicago, IL; MGM Grand Garden Arena in Las Vegas, NV; and the Scottrade Center in St. Louis, MO.
The Scottrade Center is a 22,000 seat arena that is normally home to the St. Louis Blues of the National Hockey League. The facility opened in 1994 and has been home to many great moments in NHL history, as well as professional wrestling and musical concerts. When Joel travels to this arena, it will be one of the greatest moments in the facility's history and despite not having released a musical album in the past 20 years, will be packed to the rafters.
Joel's last album release was his lone release of classical compositions. Prior to that album, the last time Joel put out new music came in 1993 with The River of Dreams. That album has been certified platinum five times by the Recording Industry Association of America for selling more than five million copies. Collectively, Joel has sold more than 150 million copies worldwide including his best-selling album, Greatest Hits - Volume I & Volume II, which sold more than 23 million copies in the United States.
Fans of Joel's will hope to hear all his popular hits including his breakout debut single, "Piano Man," as well as other songs like "Just the Way You Are," "It's Still Rock and Roll to Me," "The River of Dreams," "My Life," "Tell Her About It," and "We Didn't Start the Fire." His diehard fans will also want to hear him perform some of his lesser known songs like "Where's the Orchestra," "Goodnight Saigon," and "Worse Comes to Worst."
Joel is one of the most respected musicians in the history of American music. He is the third best-selling solo musician in the history of the United States and the sixth best selling artist in a country filled with talented musicians. His musical career is one that has been held in high acclaim by the music world and by his fans. He has been nominated for 23 Grammy Awards and picked up six wins. He has also been inducted into the Songwriters Hall of Fame, Rock and Roll Hall of Fame and Long Island Hall of Fame. He has also been honored with the greatest honor for influencing the culture in the States with arts, the Kennedy Center Honors.
Tickets for the Joel concert on April 11th at the Scottrade Center in St. Louis go on sale to the general public on February 8th and will likely sell out quickly.