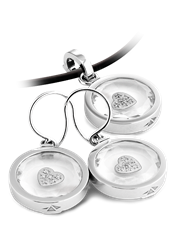 Our customers are at the heart of everything we do. We would like to help them celebrate their love for that special someone, with unique gift ideas from QNET. - Haldun Arin, Chief Executive Officer of QNET
(PRWEB) February 10, 2014
It's the month of February which can only mean one thing; people and retailers especially are gearing up for the upcoming Valentine's Day on 14 Feb, and QNET is no exception.
As a prominent Asian direct selling company, QNET has joined this romantic occasion by making available a selection of unique gifts which is sure to make your loved one feel special.
"Our customers are at the heart of everything we do. We would like to help them celebrate their love for that special someone, with unique gift ideas from QNET. In fact, we encourage our customers to not just express their love for their significant other, but also reiterate their love for their parents or siblings or friends this Valentine's day. If we can help you touch someone's heart, nothing gives us greater joy!" says Haldun Arin, Chief Executive Officer of QNET.
With QNET's wide array of luxurious gifts from high-end jewellery, watches and holiday breaks, one can choose the most amazing gift for their loved ones.
Ladies can show their passion for their men by selecting a high quality timepiece from the Bernhard H. Mayer® brand which presents Nauticus, the newest addition to its gentleman's collection of fashion and sports watches. Perfect for racing the high seas, the Nauticus is water resistant to 500 metres. Decorated with 25 jewel bearings in a superior design, the Nauticus keeps pace with men's jet-set lifestyle, with accuracy and style to spare.
Men can prove their love for their ladies with the elegant gift of the Peacock Baroque Set from the Umayal Collection which pays tribute to the sovereign beauty of this stunningly luxuriant king of birds. The grandeur of this majestic creature is truly set free through the flare of blue sapphires and topaz gems alongside the mysterious allure of the chrysocolla stones; set against the striking shimmer of silver. These peacock feather-inspired necklace and earrings can adorn any outfit. Worn separately or together as a set, this remarkable collection exudes charm and delicacy perfect for any stunning look.
The Himalayan Crystal Love Collection featuring a stunning range of pendants and earrings designed using rare crystals from the 200 million year old Himalayan mountain ranges, embellished with diamonds and 18k yellow and white gold makes a perfect gift for the special ladies in your life.
If you and your partner are avid travelers and explorers, it is time to join QVI Club by QNET - one of the fastest-growing vacation clubs in the world, offering exciting flexible vacation memberships that give you access to a wide variety of hotels and resorts worldwide.
For more such unique gift ideas, visit the QNET website at http://www.qnet.net/en/products or contact a QNET Independent Representative.
About QNET
As a prominent Asian direct selling company, QNET provides a wide range of life enhancing products that are offered through its proprietary e-commerce platform to customers and distributors in over 100 countries. The company also has some 25 offices and agencies worldwide, and more than 50 stockists, apart from localised operations or franchisees in a number of countries.
QNET is a member of the Direct Selling Associations of Malaysia, Singapore, and the Philippines. QNET is also a part of the Hong Kong Health Food Association and the Health Supplements Industry Association of Singapore among others.
QNET is active in sports sponsorships around the world, including Formula 1, football, badminton and more, due to the company's strong belief that the drive, passion and teamwork of sports mirrors that of QNET.
For more information, please visit QNET's website at http://www.qnet.net.