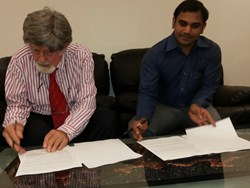 Journal of Cellular and Molecular Biology supported by 22 Nobel Laureates
Henderson, Nevada (PRWEB) February 10, 2014
OMICS Group International, a leading open-access publisher and a world class scientific International Conference organizer is proud to announce that 22 Nobel Laureates are now supporting the journal of Cellular and Molecular Biology.
Journal of Cellular and Molecular Biology, a 60 year old journal, was acquired by OMICS Group in October and a collaboration agreement was signed between Dr Srinubabu Gedela, Managing Director and CEO of OMICS Group International, and Professor and Dean Raymond J. Wegmann, founder of the journal. Established in the year 1950, Cellular and Molecular Biology journal is an interdisciplinary publication that publishes original research work in the form of articles, comments and reviews integrating molecular biology with fields like biophysics, biochemistry, enzymology, physiology and biotechnology in a dynamic cell and tissue biology environment, applied to human, animals, plants tissues as well to microbial and viral cells. Under the surveillance of 22 Nobel Laureates, Cellular and Molecular Biology has achieved the pinnacle of success and will continue to accomplish the same. The journal is therefore open to intense interdisciplinary exchanges in medical, dental, veterinary, pharmacological, botanical and biological researches for the demonstration of these multiple links. Cellular and Molecular Biology (ISSN: 1165-158X) is the 301st journal under its open access umbrella of OMICS Publishing Group and aspires for its continued success with the support of eminent editors from around the world. Indexed/Abstracted in more than 35 retrieval Journals, and among them: MEDLINE/PubMed, BIOSIS Database, Current Contents, Index Medicus, PASCAL/CNRS Database, Cam. Sci. Abstr., CAB Inter., Chem. Abstr. Service, RIS in Reference Update etc. are the prime platforms.
About OMICS Group International:
OMICS Group International is a peer reviewed Open Access journal publisher and world-over scientific event organizer, has taken various new initiatives like OMICS Group Mobile App, OMICS Group eBooks, OMICS Group French Edition, Young Scientist Award and Scholars Central. The group has published around 55,000 articles in more than 300 journals along with the 50 acquired journals which were procured from reputed publishers including Aston Journals (USA), Ashdin Publishers (USA), LibPubMedia (UK), La Prensa Medica (Argentina) & Oral Health and Dental Management (Romania).
About Professor and Dean Raymond J. Wegmann:
Professor and Dean Raymond J. Wegmann was Born in Sarreguemines (France), July 8, 1923. He achieved his Doctor in Sciences, from the State Diploma (Sorbonne), Paris, in 1958. Professor Wegmann is Founder and President of the Organization Committee of the 1st International Congress of Histochemistry and Cytochemistry, Paris, 1960. He has publication record of eight and co-Publication of 4 scientific books, founder and Editor-in-Chief of the Annales d'Histochimie, founder and Editor-in-Chief of Cellular & Molecular Biology. He is a member of many scientific societies: American Chemical Society, American Heart Association, Epidemiological Council of the Hypertension Group of the AHA. He was also Medical General Inspector and Counsellor, Ministry of the Veterans Affairs, between 1978 and 1980. To read more about Professor Wegmann, please visit.