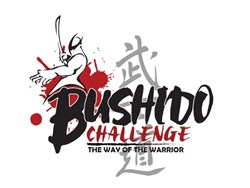 Our intention is to create a highly intense setting that will spike adrenalin levels, and raise participants' expectations for the sport of obstacle racing.
Fredericksburg, VA (PRWEB) February 10, 2014
Announcing the path to enlightenment: samurai-themed obstacle racing. To be held Saturday, April 26 and Sunday, April 27, The Bushido Challenge promises 6+ miles to test the body and mind by way of the seven tenets of samurai code. The premise of this eastern-inspired event is to protect flags from ninjas who aim to collect them, while completing the labors of the rigorous course.
In this inaugural year, The Bushido Challenge will be held at the Cutalong Golf Resort. One hour north of Richmond and a short drive from nearby Fredericksburg, the golf resort located in Lake Anna, Virginia offers a variety of terrain for the 17+ obstacles with a mix of wide-open spaces and wooded areas.
The obstacles will be divided into three phases to try the physical and mental strength of participants. The first phase will require mastery over the five elements (earth, water, fire, wind and void), while the second will require outwitting and outmaneuvering ninja opposition in a series of wall and rope barriers. Tired and seemingly outnumbered, racers will then be faced with what is to culminate in Phase III: The Bushido Battle. Runners must not let themselves be too distracted in this phase by the theatrical display of smoke and fire, as they will race to protect any remaining flags from the vigilant, usurping ninjas.
"We are staging the final stretch of the Bushido Challenge to replicate a large-scale battle between ancient samurai and legendary ninja foe… as much as we can in a modern central Virginia venue," said event co-creator David Martin. "Our intention is to create a highly intense setting that will spike adrenalin levels, and raise participants' expectations for the sport of obstacle racing."
Takeaways for runners of all levels include a t-shirt, a finisher medal, and a mystery box.
Participants will also receive a free hot meal at the end of the event as well as rejuvenating natural snacks at numerous aid stations, provided by Honey Stinger and Complete Nutrition. Those who register for the male or female individual and team elite wave(s) will compete for $6,100 in cash prizes and the chance to win a custom made samurai sword. In addition to an action-packed racing event and receiving branded memorabilia, participants and spectators are invited to also enjoy an after party that only the likes of the Bushido Challenge event staff could deliver, with beer, live music, sumo suit battling, and several surprises.
Solo and team rates will increase slightly as the event approaches, so interested parties are encouraged to visit http://www.bushidochallenge.com, or e-mail info(at)bushidochallenge(dot)com soon for more information.
About Bushido Challenge
Bushido Challenge is the first obstacle race to feature a theme during the course that incorporates samurai, the Bushido Code and ninjas. Founded in 2013 by David Martin and Andy Royer, Bushido Challenge aims to create not only an engaging and challenging series of events, but a way of life that encourages participants to adhere to the 7 tenets of the Bushido Code.
For more information, visit http://www.bushidochallenge.com.
Follow Bushido Challenge online on Facebook and Twitter.
Media Contact:
David Martin
804.878.4431
david(at)bushidochallenge(dot)com