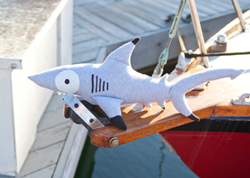 Indy Plush™ gives a generous 15% donation to the Shark Angels.
Los Angeles, CA (PRWEB) February 11, 2014
In 2007, three dynamic shark conservationists --Julie Andersen, Alison Kock, and Kim McCoy-- got into the water with sharks and cameras to bring attention the unnecessary destruction of sharks and their habitats. They were dubbed the "Shark Angels." Their video grabbed enough world attention and momentum that it allowed Julie to officially form a non-profit organization by the same name.
Today, The Shark Angels are leading a positive, contagious movement to save sharks and the oceans by raising awareness and educating children to change perspectives and connect advocates to act locally to save sharks and their critical ecosystems they support.
Indy Plush™ has created a whimsical collection of eco-friendly plush dolls and clothing that will help the Shark Angels carry out their mission. Every time a doll, t-shirt or zip-hoodie is sold, Indy Plush™ will give a generous 15% donation to the Shark Angels. Each doll carries a tag that describes the type of shark and if they are endangered, how many are left in the world. Each tag also informs the consumer that the dolls are certified green, made from fabrics sourced in the USA and filled with fibers made from 100% recycled plastic water bottles that were melted and spun in the greater Los Angeles area.
Indy Plush's Shark Angel collectibles and clothing are now available at The Malibu Beach Supply Company, Four Seasons Hotels in Hawaii, selected boutiques throughout the continental US, the Indy Plush™ Atelier Showroom at Fisherman's Village in Marina del Rey, and through the http://www.indyplush.com website.
For more information, contact Plinio Garcia at 310-902-1651 or pj(at)indyplush(dot)com.