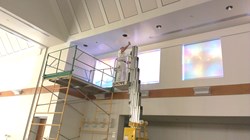 A number of our team members lost power for days following the ice storm that hit our region on February 5th
New Oxford, PA (PRWEB) February 10, 2014
Less than a month after the "polar vortex" burst a sprinkler system pipe and bathed part of Nicarry Meetinghouse in water, things are all but back to normal with our versatile meeting space. This week the final repairs were made to the ceiling where the water came through, and the scaffolding soon will be gone. The only remaining question mark is the Allen digital organ, which took a direct hit from the water. So far the news there is good: no immediately apparent major damage – most of the water seems to have just run off onto the floor.
Containing the damage has gone so smoothly – given what might have happened – because a large number of dedicated team members and volunteers responded immediately at the time of the incident and helped to clean up. Except for the organ and scaffolding, it's been largely business as usual.
While Nicarry got an unwanted shower, we also had a number of team members who lost power for days following the ice storm that hit our region on February 5th. Administrator George Turner made sure that the three comfortable family showers in our Wellness Center would be available to them, along with towels, soap and hair dryers.
Some accidents are unavoidable, but the people who respond can minimize the impact, and Cross Keys Village is lucky to have had so many of those people around to limit the scope of such problems.