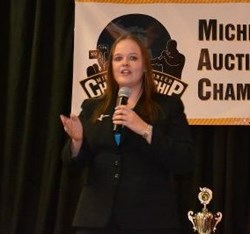 "She absolutely hit it out of the park"
Lansing, Michigan (PRWEB) February 09, 2014
Laura Mantle, Auctioneer from Columbus, Ohio bested all the men at the Michigan Auctioneers Association Auctioneer Championship last Wednesday. Competitors were judged on their bid calling (fast talking) as well as their ability to answer auction industry questions.
Michigan Auctioneers Association President Kenny Lindsay commented following the contest, "Not only did she put on a fantastic bid calling performance but she absolutely hit it out of the park with her on-stage interview that accounts for a significant portion of her score. Ironically, behind the scenes, arguably one of the greatest auctioneers in the country, Shane Ratliff actually predicted her victory!"
The 26-year old has been an auctioneer for only 7 years and holds a faculty position at her alma mater, The Ohio Auction School along with Rich Kruse and Peter Gehres. Lisa has worked over 500 auctions in Ohio and surrounding states. She will compete in the International Auctioneer Championship in July in Louisville, Kentucky.
Laura resides in Gahanna, Ohio (a Columbus, Ohio suburb) where she works full time selling real and personal property at live auction. She can be reached at (614) 332-7335 or at Laura(dot)Mantle(at)yahoo(dot)com.