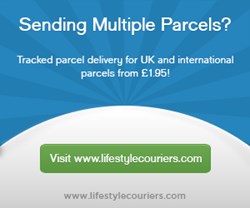 Significant savings in both time and postage.
Liverpool, Manchester (PRWEB UK) 12 February 2014
The automated label printing solution means that orders from your website automatically print using the lowest cost courier option. Support for thermal or Lifestyle Couriers A4 labels means that your existing printers can be used.
John Robinson the founder of Lifestyle Couriers stated, "The automated process means that orders received on your website automatically print on your local printer(s) using the best tariff available. For companies who already have a special rate with a courier, we can typically support that rate within our platform. This means that the best courier and postal network is used automatically. Companies using our automated service are seeing significant savings in both time and postage."
Lifestyle Couriers proactively sends emails to parcel recipients, which means they don't have to call customer services or even go online to track a parcels. Every time a parcel delivery status changes, a parcel recipient is automatically sent an email updating them. Because customers don't need to call to ask where their order is, it significantly reduces customer service calls.
Lifestyle Couriers offers significant savings for individuals or companies sending 5-1000 parcels. No contract, clear pricing and a simple interface makes the low cost parcel delivery service available to everyone.
The Lifestyle Couriers platform allows users to mix UK and international destinations; address look-up ensures addresses are correctly captured. A file import wizard makes uploading files very easy, so no need to re-enter customer sales information. Printing can be done on a standard A4 paper printer or using a thermal printer. Lifestyle Couriers also offer customers registering this month free A4 labels to allow printing of labels on your A4 printer.
For more information, visit http://www.lifestylecouriers.com.