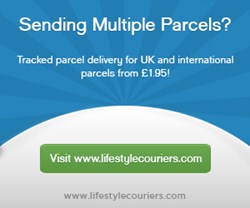 lowest online tracked parcel delivery
London, England (PRWEB UK) 10 February 2014
The Lifestyle Couriers platform automatically works out the lowest cost postal network or courier for any given parcel. Their new 3-UP A4 labels mean that companies print all their labels on a standard printer in a single pass without worrying about using the correct stationary. Customers registering this month with Lifestyle Couriers will be sent a free pack of these new A4 Labels.
For many companies, the process of choosing the correct courier can be time consuming, companies using a thermal printer can find themselves constantly loading and selecting labels. Printing the incorrect labels can cause lots of difficulties. Using Lifestyle Couriers solves all these problems.
The Lifestyle Couriers platform will identify the lowest cost parcel solution for any particular item, and with Lifestyle Couriers offering the lowest online tracked parcel delivery (from £1.95) savings can be much more than just time.
John Robinson, the founder of Lifestyle Couriers, stated, "This low cost parcel delivery is available without any contract, so it's perfect for small shops, eBay and Amazon users. Parcels can be collected from their office or home. Alternatively parcels can be dropped off at a local shop, and with most shops open 8 a.m. till 8 p.m., it fits around other commitments."
The Lifestyle Couriers platform allows users to mix UK and international destinations, address lookup ensures addresses are correctly captured. A file import wizard makes uploading files very easy, so no need to re-enter customer sales information.
For more information, visit http://www.lifestylecouriers.com.