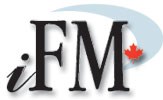 Responsive website design caters to and engages the millions of mobile phone users.
Markham, Ontario (PRWEB) February 18, 2014
Planning the web hosting of a WordPress development for the company is very important. And, not just any host will do. IFM offers special hosting plans specifically for their WordPress design clients for many reasons.
Says Len Doren, IFM's Creative Director, "We got into the Hosting game over 10 years ago not to make money, but rather to offer our clients a reliable performance-oriented hosting service. Back when we started IFM, we found that if a client had a separate hosting plan elsewhere, it sometimes lead to roadblocks and impacted our site development plans." Len adds, "Today, we offer performance hosting plans for our WordPress website design clients because WordPress sites require a high level of server performance to run and display the site pages, what with all the power and built-in functionality that WordPress offers."
To avoid issues now and down the road, here are IFM's 5 top pointers to consider when looking for a good WordPress hosing plan.
1) Cost.
The lowest cost isn't always the best deal. Very low cost hosting companies have to make money somehow. One Hosting company charges $4 per month. And yet another charges $18 per month. What gives? For the low-cost hosting, "something has to give". Normally the lack of quality technical support, frequent site outages (poor server software/hardware) or slow loading web pages (website performance) are the most common of complaints of low-cost hosting.
2) Security.
Everyone blames the hosting company when a company website gets "hacked". Usually the vulnerability is traced back to a weak or simple site password the site owner set up in the first place. Speak to the hosting sales staff about security, but also make sure the company site password is comprised of a minimum of 8 characters made up of a variation of alpha and numeric characters including a special symbol like a "!" or "$".
3) Crowded Servers.
The more websites a hosting company can host on a server, the more money they make. The problem is that a crowded server can affect performance of those websites. This type of condition could facilitate "server time-outs", or at the very least, very slow loading pages that also can be accompanied with a "ding" from Google too.
4) Backups.
A good Web Host company backs up their servers several times per day. A good Hosting company also offers their customers the ability to pick and choose files to restore, when they want to restore a file and without any special technical skills required. Make a mistake? It should be easy to restore that file.
5) Virtual Servers vs. Dedicated Servers.
A Virtual Managed Server allows even novices to manage a group of websites for a reasonable monthly cost. A Dedicated Server can be costly up-front and cause many headaches in terms managing of up-time, offering good support and timely hardware and software upgrades. VMS is "finite" in terms of how many sites one can host vs, virtually an unlimited amount of sites one can host on a dedicated server.
Choosing the right Hosting company and the right plan at an affordable price can be difficult with all the variations on hosting available these days. Talk to a local web design company for a suggestions. Get a referral from local businesses or from a friend or associate. Make an informed decision that fits the needs and requirements of the company.
IFM Web Services offers Responsive Web Design, Web Hosting, SEO Press releases, Search Optimization and Facebook pages for businesses. Located in the Toronto area (GTA), IFM has helped business achieve an effective online presence and has helped clients as far away as Bermuda and Mexico. For more on Social Media, SEO or Web Design for businesses, visit IFM at http://www.ifm.ca.