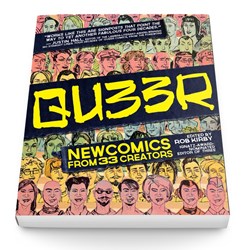 QU33R is the sort of comics anthology that we need more of.
Seattle, Washington (PRWEB) February 18, 2014
The new comics anthology QU33R from Northwest Press, edited by Rob Kirby, has hit store shelves and reviewers' desks, and appears to be generating lots of positive buzz. Kirby, the Ignatz-Award-nominated editor of THREE and creator of Curbside, has curated a collection of over 240 pages of all-new comics work from 33 creators, many of whom are fan favorites of LGBT comics readers, such as Howard Cruse (Wendel), Ed Luce (Wuvable Oaf), and Diane DiMassa (Hothead Paisan).
QU33R contains a mix of full-length pieces and shorter contributions. Highlights include Eric Orner's poignant book-opening autobiographical piece, "Porno", which conveys the heavy consequences of queer silence, even in a time before "Silence = Death" was a familiar refrain. Readers familiar with Orner's long-running comedy strip "The Mostly Unfabulous Social Life of Ethan Green" will be pleasantly surprised at how well the artist tackles more personal and somber subject matter.
MariNaomi (Kiss and Tell) navigates the pitfalls of fluid physical attraction and awkwardness in relationships with colorful, whimsical artwork that belies the serious themes bubbling underneath.
Andy Hartzell's "Manning/Lamo Project" turns the digital conversations between Private Manning and a reporter into a seductive, dangerous adventure, acquainting the reader with Manning's personal struggles with gender identity, the backdrop for the release of classified (and damning) military intelligence information.
Reviewers have also raved about the quality of QU33R's production, which can be uneven in anthology projects. From Michael Fahy's striking cover illustration and endpapers to the consistent, rich color throughout, as well as smaller touches like full bios for contributors and colorful artist credits—which create a rainbow effect along the edge of the book—the consensus is that the collection showcases the work beautifully.
"This is a substantial work, well-suited for the shelves of anyone interested in the topic. Even beyond the subject matter, the collection of cartooning styles displayed here is eye-opening." — Johanna Draper Carlson, Comics Worth Reading
"QU33R is the sort of comics anthology that we need more of. Kirby's assembled a great deal of unique comics voices for this book, and the end result is a real joy to read. This isn't just a book of good LGBT comics, it's a book of good comics, period. QU33R is well worth your time and money." Greg McElhatton, Comic Book Resources
"QU33R is a superb example of comics celebrating determination and difference: sensitive, evocative, romantic and humorously engaging 'people stories' which any open-minded fan can't help but adore. There's not much fighting but plenty of punch, and in an ideal world this book would be readily available in every school and library for any confused kid in need of inspiration, comfort, understanding, encouragement and hope." — Win Wiacek, Now Read This!
"All in all a superb collection, one I want on every graphic novel e-reader, and, as a librarian, in every library, personal and public, including my own." — Cathy Camper, Lambda Literary
"Memory and melancholy both show up in spades in QU33R, a smart survey of queer comics from the growing Seattle press. The tendency here is towards a certain degree of autobiography, calling back to the heyday of highly personal art comics of the '80s and '90s." — David Berry, Canada's National Post
"Damn, now that's how you put together a fantastic anthology." — Optical Sloth
ABOUT QU33R:
QU33R ($29.99, softcover ISBN 978-1-9387203-6-9, $39.99, hardcover ISBN 978-1-9387203-8-3, 7"x8.5", Northwest Press) is a 264-page color comics anthology currently available at comics specialty shops across North America and the UK, as well as direct from the publisher and on iTunes and Gumroad in a digital edition. Links to reviews and previews from the book can be found at http://qu33r.net.
ABOUT NORTHWEST PRESS:
Northwest Press publishes graphic novels and comics collections by lesbian, gay, bisexual and transgender comics creators, as well as other works of interest to LGBT readers. Their books are available in print through bookstores and directly, as well as digitally through iBooks and Gumroad.com. Northwest Press books are also available for wholesale retail order direct from the publisher and through distributors Diamond, Prerogatives/Pride Catalog, Last Gasp, Tony Shenton, and Bulldog Books (Australia).