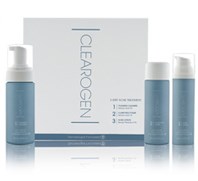 Fastest way to get rid of a pimple is finally available.
Encino, CA (PRWEB) February 08, 2014
Pimples are inflamed parts of the skin that are usually caused due to the development of bacteria within the pores of the skin. It is hard to swallow one's feeling of dread that arises on seeing their face in the mirror and finding out that a pimple has formed there during the night. These protrusions which are reddish in color can sour one's mood in an instant. Now there is finally a solution that will get rid of pimples overnight.
Clearogen is a three step revolutionary acne solution and control product that works by reducing DHT and stopping pimples at the root. Pimples have always been blamed on clogged pores and bacteria but DHT is the root cause of pimples. Clearogen works by reducing DHT and stopping pimples at the root.
Pimples aren't caused by dirt, makeup, or dietary factors, although any of these may aggravate an existing condition. The real culprit is DHT (dihydrotestosterone), a testosterone byproduct found in both males and females. DHT triggers excessive stimulation of oil glands, causing clogged pores. This in turn promotes the growth of bacteria on the skin. The result: ugly blackheads, whiteheads, bumps, and skin inflammation—that are, pimples. Most new pimple solutions on the market clean the skin but fail to treat DHT production, and this is why they don't work in the long run.
Clearogen Acne Research
Aside from FDA-approved acne medications Benzoyl Peroxide, Salicylic Acid and Sulfur, which are used to clear the existing pimples, Clearogen contains natural anti-DHT ingredients that address the root cause of pimples on the initial hormonal level. Dirt, makeup, and other factors only come into play if your glands are producing excessive DHT. Therefore, by stopping DHT, you eliminate the excessive oiliness that leads to pimples on the first place. Clearogen is the first over-the- counter, fully FDA-approved product, for treating pimples where it starts.
Clearogen is available directly by calling 877 30-CLEAR or at http://www.clearogen.com/shop.html.