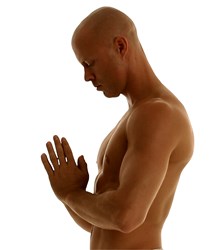 "Thankfully, I was introduced to Method Yoga by Reed Taylor. Method Yoga has literally transformed not only my body, but my mind and eagerness to work out and improve." - Mark A Henderson, 1996 Gold Medalist
San Francisco, CA (PRWEB) February 13, 2014
Announcing Online Streaming Classes for Physical Transformation for Advanced Yoga Practice
Visit http://www.MethodYoga.com for current modules for at home fitness use.
METHOD YOGA: The modern yoga cross- training system designed for those interested in activating their potential, breaking away from conventional approaches and experiencing the innovation and freedom of the endorsed system of Olympian, Mark A Henderson.
"As an Olympian I've always had a keen sense of how my body reacts to training. Once I turned 40, I started to realize that simply going to the gym to lift or run on the treadmill was not giving me the results that I was looking for. I was not recovering as quickly thus I wasn't able to work out with the same intensity I was used to. I put on weight and suffered the side effects of multiple injuries, high blood pressure and boredom with my workouts. Thankfully, I was introduced to Method Yoga by Reed Taylor. Method Yoga has literally transformed not only my body, but my mind and my eagerness to work out and improve. You can definitely fill your competitive drive with other members of the class or simply against yourself. Reed first pushes you to acquire the proper technique then challenges you to exceed pain and/or exertion barriers - which gives you an amazing sense of daily accomplishment. What I like about it most is the flow of each workout. There is no jarring movements, no excessive weights, yet I walk out of each work out knowing that I just got the most out of my 1 - hour investment, as well as, a soaked shirt for proof."
Mark A Henderson, Gold Medal Swimming
1996 Olympic Games
What is method yoga?
http://www.methodyoga.com/posts/114-what-is-method-yoga
San Francisco, California
Method Yoga is a modern yoga cross-training system designed for those interested in yoga and fitness and who are looking for rapid progress. Because we are confined to our body, how we move and train is essential to our well-being and success. Any movement system that lacks insights gained from the biological sciences and modern athletic training principles is outdated and omits features necessary for students to excel in today's complex world. Method Yoga represents the current drive of Integral theory though movement and bodily training. Method Yoga is an inclusive system that dissolves the boundaries that isolate and separate various
approaches. Method Yoga offers the student a process of development and transformation by uniting methodologies of old and new so one begins to experience true liberation, wholeness and actualization which is the definition and purpose of "yoga."
Training levels are designed so one can avoid injuries and maximize results.
*Level one- Foundations Training Series
*Level two- Basic Training Series
*Level three- Athletic Training Series
*Level four- Professional Training Series
Method Yoga Testimonials
http://www.methodyoga.com/posts/28-testimonials
Millions of people are benefiting from the positive effects of yoga experiencing a decrease in anxiety, weight loss, a more positive outlook, well-being, spiritual connection and even a sense of community. But this ancient spiritual practice is evolving to meet the needs and demands of the modern world. Method Yoga is designed to be the most comprehensive and dynamic yoga cross-fitness training system available. The approach balances Interval Training, Rocket Power Yoga, Pilates Core and Circus Strength. Reed designed the system based on the observations and feedback of over a decade of teaching Rocket Teacher Training in the US and internationally to hundreds of students. In 2009, Reed Taylor began teaching only structured, intensive Method Yoga boot camps that synthesize the most transformative methods known in the health and wellness industry.
See Also:
Read Taylor's My Story
http://www.methodyoga.com/blog/my-story
CBS Rescue 911 fifteen year old Reed Taylor drowning
http://www.methodyoga.com/posts/116-reed-taylor-s-near-death-experience