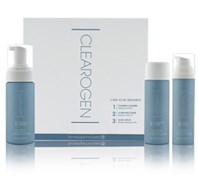 Beverly Hills dermatologist to the stars, Dr. Alex Khadavi anounces the launch of his anti-acne breakthrough, Clearogen available at http://www.clearogen.com/shop.html.
Beverly Hills, CA (PRWEB) February 08, 2014
Every day, millions of people continue to suffer from acne, but the current treatment for adult acne only addresses the symptoms, rather than the root cause. Many acne sufferers are left feeling overwhelmed and defeated by not being able to find a long-term acne control treatment that works. It's normal to feel frustrated and confused by the current slew of acne control treatment solutions that are available over the counter, online, on TV and by prescription -- all of which are essentially the same. These treatments use FDA-approved medications to open the pores, kill the bacteria, and reduce the inflammation. Yet they don't provide consistent and long-term results, because they don't address the root cause, to prevent acne breakouts.
Clearogen is a three step revolutionary acne solution and control product that works by reducing DHT and stopping acne at the root. Acne has always been blamed on clogged pores and bacteria but DHT is the root cause of acne. Clearogen works by reducing DHT and stopping acne at the root.
Clearogen Clinical Study
In a multi-center 8 week, double-blind, placebo-controlled, randomized clinical trial, Clearogen was compared to Benzoyl Peroxide 5% in effectiveness.
Clearogen significantly outperformed Benzoyl Peroxide 5% by reducing both inflammatory and non-inflammatory acne lesions
Clearogen resulted in a significant reduction in signs of irritation (erythema), indicating effectiveness without skin irritation
Clearogen decreased sebum production confirming its ability to reduce DHT, the root cause of acne
Clearogen is available directly by calling 877 30-CLEAR or at http://www.clearogen.com/shop.html.