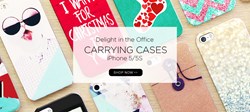 Hong Kong, China (PRWEB) February 09, 2014
As a matter of fact, the international market would always witness the release of a wide variety of mobile devices, most especially accessories that are highly essential to their functionality. With a view to offering the best deals to shoppers who are looking for high-quality cases for mobile gadgets, Bagsq now announces its forthcoming Pre-Valentine Promo on iPad cases and iPhone cases with 85% discounts on all purchases.
Today, Bagsq is already building credibility in the e-commerce industry, having been established as an online store for varieties of high-quality mobile accessories, most especially phones cases. The company has great wholesale and retail offers when it comes to the supply of Apple and Samsung cases.
While speaking on the essence of the promo, the owner of Bagsq affirms that it is always a great thing to show practical affection and love to family and friends, and that the Valentine season is a good time to express kind gestures to people who are objects of one's love. "For shoppers who will like to offer iPad cases or iPhone cases as special Valentine gifts to their loved ones, they can take an advantage of the Pre-Valentine Promo that Bagsq will soon launch on 10 February, 2014. The promo will last till 13 February, 2014. During this period, all products on the storefront will attract 85% discounts," she reveals.
It's also reported that Bagsq will offer a wide range of cases for Apple gadgets, including Samsung cases. All the cases will come in various colors, designs, and styles such that users would be able to customize their gadgets based on their personal preferences. She states further, saying, "On 10 February, 2014, the Pre-Valentine Promo will kick off in a grand style as our store will be open to prospective customers who are looking for cheap cases. High quality and customer satisfaction are guaranteed."
For more information on the Pre-Valentine Promo that Bagsq will soon launch on 10 February, 2014 to offer 85% discounts on all its available iPad cases, iPhone cases, and Samsung cases, go to http://bagsq.com.