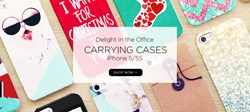 Hong Kong, China (PRWEB) February 10, 2014
Topping the list of new arrivals are the Elegant Pearl Rhinestone iPhone4/4S Case, and the fashionable Diamond Butterfly Case For iPhone4/4S&iPhone5/5S. The new arrivals for the iPhone 5C is the Rhinestone Hand Made Hard Case, while pretty DIY Rhinestone Flowers Case is also good for iPhone 5/5S/5C.
"As a fashion distributor who keeps abreast of the latest trends in fashion clothes, Bagsq.com offers fashionable clothes of good quality and at the most reasonable price for everyone in the world," says BagsQ's boss.
Other iPhone 4/4S cases in stock include the shinning Leopard Head Transparent Rhinestones and the Frozen Summer Bright Dazzling Rhinestone Cases. The latter is also available for iPhone5/5S too.
Top of the list of iPhone 5/5S cases include the following:
Frozen Summer Bright Dazzling Rhinestone Case for iPhone4/4S&iPhone5/5S
Punk Style Love Wings Metal Case for iPhone5/5S
Best Quality Lovely Cartoon Girls iPhone 5/5S Case
Best Selling Top Quality Blooming Rhinestone Rose Handmade Cell Phone Case for iPhone4/4S&iPhone5/5
"Those who own the iPhone 5C will find the newly arrived Creative Painting Plastic a great accessory," says the site's owner.
Among the new arrivals is also the new Letters and Red Lips Design Case for iPhone 5C.
BagsQ, a dedicated provider of hundreds of products for global buyers, caters to buyers all over the world. In fact, the company supplies for clients in 230 countries worldwide. However, their largest clientele are the USA Europe, Australia and Asia.
"We also boast over 10 million product listings from our factory," adds the site's spokesperson.
Unlike other international supplier of fashionable goods, at bagsq.com, international buyers can purchase a wide range of products at very low prices. In addition, customer can also enjoy the custom-made items.
"All of our products are made from top quality materials and go through rigorous inspection," notes the source, who points out they have an elite team of professional with unmatched retail and customer service skills in a wide area to include unlimited creativity in dressmaking.
ABOUT BAGSQ.COM
BagsQ offers a quick-and-easy online purchasing process in addition to offering all of our clients a dedicated and knowledgeable customer service team. We tried and tested Trust Marketing and PayPal payment processes guarantee a safe and secure purchasing environment. Compared to our competitors, BagsQ has truly taken out the hassle of international trade—from product sourcing, secure payment and shipping. Since its establishment, BagsQ has seen accelerating growth rate in a number of business indicators, including year-to-year gross merchandising value, number of orders, registered buyers and sellers, and listings.