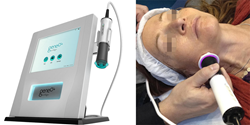 ...the geneO+ will offer real business value for skin care professionals and phenomenal results for their patients.
Tel Aviv, Israel (PRWEB) March 06, 2014
Pollogen Ltd., a global leader in the medical aesthetic market, launched the geneO+, a revolutionary aesthetic platform specifically developed for skin care professionals. The geneO+ debuted last week at the International Salon and Spa Expo (ISSE) in Long Beach, California.
The launch generated a lot of excitement at the Pollogen booth. Skin care professionals experienced for themselves the visible results after one treatment (improved skin tone, nourished and glowing complexion. They were equally impressed with the sleek design of the equipment and its ease of use. The treatment is essentially a "walk-in/walk-out" 3-in-1 Super Facial for their busy clients.
geneO+ is a cutting edge smart-touch platform integrating the revolutionary OxyGeneo technology that delivers three essential treatments simultaneously: exfoliation of the outer layer skin, infusion of essential revitalizing nutrients, and oxygenation of the skin generated from within.
The geneO+ can function as a standalone system or can be integrated as part of other aesthetic regimens. geneO+ offers the possibility of a one-time skin rejuvenation experience or a series of treatments.
Mr. Amichai Bar-Nir Pollogen's CEO commented; "We are very excited about launching our newest innovation geneO+. OxyGeneo technology has been well received by skin care practitioners around the world, who are experiencing patient satisfaction well beyond what they expected. We feel that the geneO+ will offer real business value for skin care professionals and phenomenal results for their patients."
About Pollogen
We believe in constantly challenging ourselves to create the most advanced, effective medical aesthetic technologies and solutions. We believe in thinking differently.
In everything we do, we take a customer-centric approach by making our products user-friendly, safe and convenient. At Pollogen there is no such word as "done"; we continually perfect our solutions to provide treatments that are pleasant and effective. We believe in finding ways to develop technologies that work with the body's natural mechanisms so beautiful results are generated from within.
Pollogen is the developer and manufacturer of five revolutionary technologies under the industry premier brand names OxyGeneo™, Hybrid Energy™, TriPollar®, TriLipo® and TriFractional™. We offer a full line of clinically-proven, safe and effective, non-invasive anti-aging facial and body contouring treatment platforms for a wide range of aesthetic applications. Pollogen provides solutions for professionals in over 60 countries, addressing the specific needs and dynamic changes unique to the ever-evolving aesthetic industry.