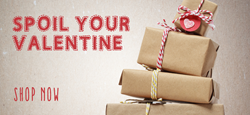 LA and entrepreneurship are huge parts of who we are. We're excited to share the free spirit of both with our members this month. -Co-founder Samantha Strom
San Francisco, California (PRWEB) February 09, 2014
This month, the ladies of Hazel Lane hope to beat the winter-blues with LA's health & beauty focused items. While they don't want to spoil the surprise completely, they just can't contain their excitement for some of the brands they're working with! Depending on the size and selection, February's City Explorer subscription boxes will include:
Knockaround Bio-based Sunglasses, Love Your Feet Socks, Plastique Jewelry, Define Bottle (founded by a 13-year-old trying to eliminate childhood obesity), Chocovivo, Twisted Tomboy, Level Natural, Real Good Food & Larry Loves LA books, Yellow Owl Workshop and more!
As always, Hazel Lane February items are carefully curated with the health of the planet and its subscribers in mind. Each of the selected small brands is doing something unique & innovative to make the world a better place. February LA boxes ship the week of February 15, 2014.
For an extra bit of romance, Box of Love, Hazel Lane is offering a specialty LOVE box for ladies, gents & kids featuring San Francisco Bay Area based companies: Plastique, Topsy Vegan Cookies, Back-to-the-Roots Mushroom growing kits, Philz Coffee, Krave Jerky and more! Order your Box of Love by February 10, 2014 for Valentine's Day delivery.
About Hazel Lane
Hazel Lane is a monthly subscription box curating the spirit of a new featured city, while keeping the environment and chicness in mind. They feature local entrepreneurs who create innovative, practical & unique gifts representing the selected city (forget that touristy stuff). Hazel Lane also donates 10% back to a new local charity every month.
So, when you want to explore London, Paris or San Francisco without the cost of a flight, long TSA lines or fog, Hazel Lane can take you there. [Founded by travel, sustainability & shopping enthusiasts Ashley Dekellis & Samantha Strom.]
Bon Voyage...
Contact info(at)hazelane(dot)com for more information or to submit a noteworthy brand.